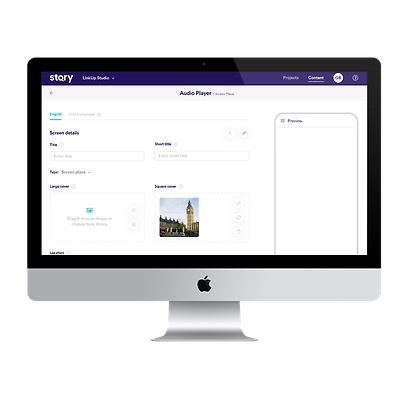 There are endless reasons to create a mobile tour guide app. Most visitors want to use their own devices, not rent audio players. Plus, physical content clutters a space, especially if you have multilingual content. An app can allow you to remove all of that clutter and keep visitors engaged with more experiences that you have to offer. The list of benefits goes on.
Whatever your reason for brainstorming the perfect mobile app, you might keep putting it off out of concern over the timeline and budget. Building a mobile app is no longer as expensive or time-consuming as it used to be.
Here are 7 reasons why building a mobile tour guide app is much easier (and more affordable) than you might imagine:
1. You can use an app builder
Most custom mobile apps cost between $100,000 to $300,000 to develop and take 6 to 12 months to launch. Small and simple mobile apps can be launched in 3 months, and in under $50,000. But even still, that's a longer timeline and a hefty cost.
However, just like there are easy website builders, there are now easy app-building platforms that allow non-technical people to create all sorts of mobile apps—including tour guides and audio guides for parks, museums, monuments, cities and other sites.
With STQRY, you can launch your own tour guide in as little as 3 weeks and at a fraction of the cost due to our subscription based software and no long term contract policy.
2. There's no need to hire software engineers
Because you'll be using an app builder, you won't have to hire outside software engineers at any stage. From ideation through building, the STQRY team will be able to handle all requirements including launching your app in the App Store and Google Play. All this requires is for you to set up Apple and Google Play developer accounts. If you do decide to launch your app with STQRY, we charge a one-time setup fee for this service, but all other services including maintenance and updates are included in your subscription price.
3. You don't need expensive recording equipment
What about the content? Many mobile tour guide apps are built by creative teams, by museum curators or marketers for example. Oftentimes, teams possess all of the talent and tools they need internally. There's likely to be someone on the team who's a great writer, and someone who has a stellar reading voice.
Luckily, you don't need to use expensive recording equipment. When it comes to recording audio content, purchase a podcasting microphone and record audio on your computer. Most importantly, make sure to work in a quiet space and notify others not to interrupt you. Temporarily turn off ambient noise like fans and air conditioners. Check out more tips for creating audio content.
4. You can repurpose content from other sources
The marketing team at World of Wine, a historic region of Porto, Portugal, was able to build an app for their temporary art exhibition in just 3 weeks. To speed up production, the team prioritized just a handful of graphic works for audio content, and for the rest, they added multilingual text descriptions sourced from existing materials.
To see ROI, the team integrated their app with their systems for restaurant reservations and event tickets so visitors could plan additional experiences right inside the app.
STQRY has a really great customer success team...After just one half-hour tutorial session with my main contact, I pretty much knew almost everything I needed to start adding our content. It took just 3 weeks to launch.

— Maria Delamain, Digital Marketing Specialist, World of Wine
5. It's easy to add and organize app content
Structuring an app is simple. Usually, mobile guide creators will choose to have one page per feature. For example, you might have one content page per artwork, building, structure, sculpture, or feature. You might also have an introduction page that explains the site and what visitors can expect to see. On each page, you can easily upload images and audio, and add and format text.
6. Geo-triggers and direction-based tours don't require coding
It's easy to assume that creating geo-triggers would be highly technical. If you use a mobile tour guide builder, it doesn't have to be.
With STQRY, you can set geo perimeters in two ways:
Bluetooth beacons - Perfect for diameters of just a few feet, like when a visitor walks up to a painting or sculpture.
Geo-fencing - Perfect for wider distances, such as when a visitor is walking through large grounds or driving past a popular site.
Without any coding required, you can set up directional tours, so that visitors only get notified of content if they're entering the geo-trigger from the right direction. You can also set up limits on the notifications. If someone is walking around a park, they won't get the same content notifications over and over. And for driving tours, audio autoplay makes the app feel like a real live tour—while also increasing safety.
7. App pages and tours can be changed whenever
When building an app from scratch with custom coding, your ongoing expenses will remain high, as you'll need to retain a skilled software developer.
If concerns over ongoing maintenance have stalled your team from building a tour guide app, the good news is that maintenance is also a lot easier than you might guess.
If you use an app builder, the platform you use will be in charge of quality assurance and ongoing maintenance. All you'll need to do is update your content. For example, you might add additional audio tracks for site features. Or you might translate content into a new language. You'll only be in charge of content maintenance, not mobile app security and debugging.
With available technology, you can build a mobile tour guide app internally, using the talent you have on your creative team and informational content that likely already exists on your website, pamphlets, or physical displays. The time-consuming aspect of building the app will be sourcing content, especially if you want to create audio tracks. But adding content to the app and setting up geo-triggered tours should be the easy part.
Connect your visitors with great content on their mobile devices. Build a tour guide app with STQRY.