Exciting news! We've just launched our latest feature on the STQRY platform, advanced text-to-speech translation. This feature allows you to convert any text-based content into audio files that can be used within your app, creating a more inclusive and interactive app experience for your visitors.
So what does this mean for your STQRY app? This feature will allow you to turn any simple text based app into an advanced, AI-powered audio touring app. No matter what type of text content you have (information on a piece of art, background on a historic building, etc.), our text-to-speech feature can transform it into a fully customizable, advanced audio experience.
Let's jump in and take a look at how easy it is to convert your text script to an audio file.
How Can I Use STQRY Text-To-Speech?
Converting your text to audio is very similar to uploading an audio file directly. You can do this via our content library feature. Let's take a look at converting your text via the content library:
First, open the content library and go to the Media tab
Click Add
Select Audio from the list of media types to add
Select Text-to-Speech as the option
You now have several options for the voice to use and the language
Enter your text in the transcription field
Click Save
That's it! We will convert this text to audio and it will be available for you to listen to in a minute or so. Watch the quick video below to see how easy it is: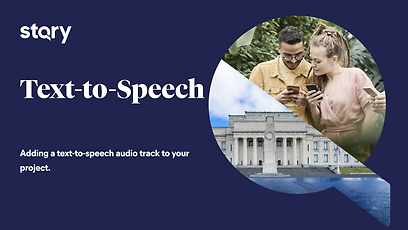 Customizable Accessibility Features
Creating your audio files is easier and more customizable than ever before with the power of AI. Instead of hiring external voice actors, production companies, and other audio experts, STQRY's AI-powered text-to-speech service lets you choose from a wide range of voices.
You can choose gender, languages, dialects, and more to produce your audio files. STQRY's tool supports over 60 types of voices in 28 languages.
"With all the different languages and voices available, this tool is a great way to add multilingual content and audio to your project," said Glen Barnes, Chief Product Officer at STQRY.
These different AI-based audio options allow you to easily create your audio files in a way that works best for your unique brand without having to do any production work yourself.
Why Should You Integrate Audio Into Your App?
Audio integration is essential to creating an accessible, inclusive app experience for your visitors. Whether they prefer to learn and explore via audio instead of reading, or if they speak other languages, all of your visitors will appreciate the extra content format option.
"You want audio in your app because it makes it more accessible to people who find it hard to read. Providing them with an audio track is a great way to make your content more accessible to a wider audience," said Barnes. "Also, being able to add content in multiple languages makes the app more accessible to a wider group of people."
In even broader terms, thinking about the recent podcasting boom, as well as the emotional connection most people have to music, the audio space is a powerful one to take advantage of. Audio content creates a much more immersive, memorable, and interactive app experience (as opposed to text only), and it's never been easier to create with STQRY's AI app builder.
Looking ahead, as domestic and international travel picks up again post-COVID, you may find yourself with more ESL visitors in the coming months and years. Get ahead of that curve with our advanced AI text-to-speech tool to create interactive audio content in multiple languages.
Keep an eye out for our upcoming text translation feature!