The STQRY app builder's text translation feature is here! With our simple interface and 27 languages available, you can easily make your app accessible to millions of users worldwide and take your content to a global level.
Connecting with visitors in new, innovative ways has never been easier with the STQRY text translation feature. We'll answer a few commonly asked questions about the tool below, along with a quick how-to video as well.
Why Do You Need To Translate Your App?
Having your app available in multiple languages serves a wider audience, thus increasing the accessibility, capabilities, and engagement rates of the app itself. Accommodating ESL or EFL users also lets all visitors know that you have created an inclusive cultural environment both online and in-person.
In the past, most apps were only available in one language (usually English), but there are probably visitors from all over the world that are interested in your offerings. Reaching these users and bringing them to your app has never been easier.
Multilingual visitors can enjoy a personalized app experience in the language of their choice, connecting to the content on a deeper level and making the overall experience more memorable. Translated text can also make general app navigation much easier for these users.
As cultural organizations started to recognize the need for new accessibility measures and tools in order to reach a broader audience over the last few years, translation technology caught right up to that demand:
How Does The Text Get Translated So Quickly?
With the STQRY text translation tool, you'll be using the revolutionary power of AI along with state-of-the-art language recognition tools to quickly transform your copy into a different language. Using cutting edge AI technology and instant language processing, your project will be translated in just a few seconds on the STQRY interface.
The technological advancements that allowed this tool to be available for mass use are fairly recent. Just a few years ago, institutions that wanted to make their app available in another language needed to facilitate a lengthy and costly translation project by hiring an outside bilingual translation specialist – and that was just for one extra language, never mind multiple. Human translators still play an important role in translations, especially with specialist subject matter and we work with many partners around the world who can help.
Now, STQRY clients can use this revolutionary technology to feature their app's copy in 27 different languages with just a click, instantly generating a new, culturally inclusive version of their app.
What Sets STQRY Apart?
With the STQRY app builder, you'll find a few key elements of the text translation feature particularly useful. The most notable is seamless formatting transitions. Any existing text formatting in your original language will carry over to the translation – no need to go back and add italics, bold text, or bullet points to the translated copy.
You can also use the text translation feature on any field within your app, or any of the screens in your STQRY project. This means that whether you have a native, downloadable app or a web app for your site, you can use the text translation feature for either type of project.
With a huge range of languages to choose from and the ability to copy the primary translation or use the Google translate tool, you can use the STQRY text translation feature in any part of your app.
How To Use Text Translation In The STQRY Builder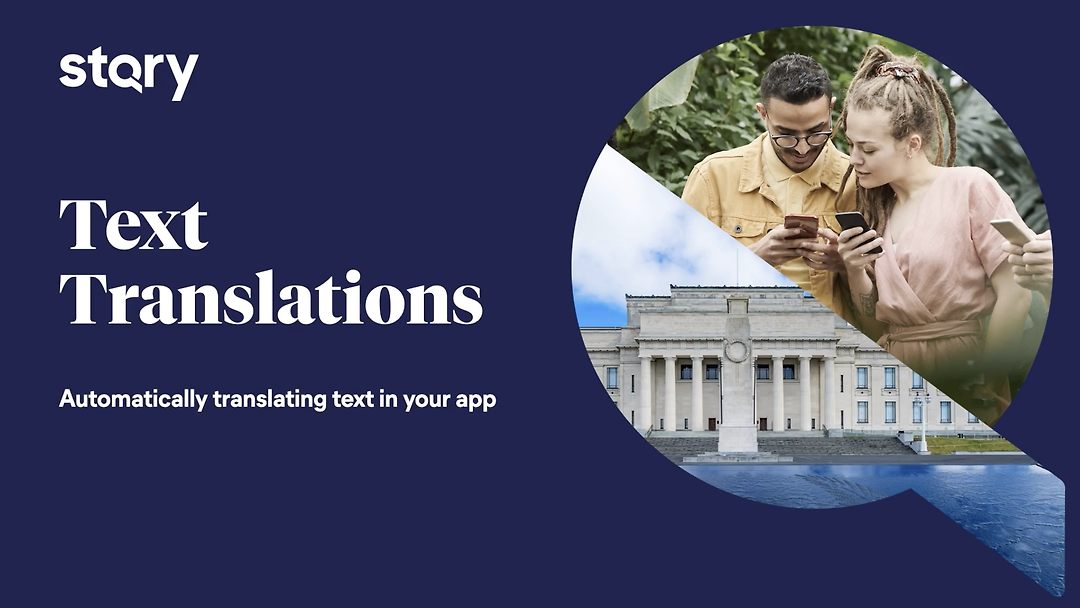 As you can see, it's incredibly simple to use the STQRY app text translation feature. Convey your message to millions around the globe by making your app available in multiple languages on the STQRY platform.