As we look back on the apps released during February, one word comes to mind: history. We're proud to see so many new digital assets that serve as guides and tours for those wishing to explore. Several apps highlight beautiful walking trails, while one is a companion guide for a book festival. Keep scrolling to check out the new apps that came out last month. There's truly something for everyone!
Electric Boat Company Tours
Learn about over 200 years of Seatlle History with this GPS-guided audio tour while driving around on the lake. Users will even be provided a tablet if needed. This guide plays automatically at each tagged location giving a personalized and historic experience while users explore Lake Union, learning about its past and how it became what it is today.
Perfect for history lovers, this tour takes you through the area's magnificent growth from a small fishing community to a mecca for technology and innovation. You'll even learn about Gasworks Park, which has been called the strangest park in Seattle and potentially the world by the Seattle Times. The tour will take roughly two hours while an electric boat taxi shuffles you from stop to stop. It's a great educational activity to do with the whole family!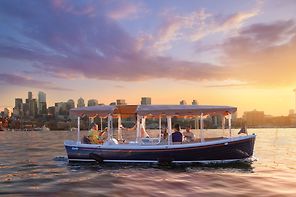 Electric Boat Company Tours
With this app, users can experience over 200 years of Seattle history at their own pace with our GPS-guided audio tour.
Women's Organizations in Dupont Circle
Learn about the women's organizations founded in the Depont Circle neighborhood of Washington DC. Home to the headquarters of many organizations engaged in significant civic engagement since the passage of the 19th Amendment, these organizations were founded either for suffrage or by suffragists.
Each club is a national organization with many affiliates across the county. Check out the app to learn popular places alongside the Dupont Circle. Explore Delta Sigma Theta and Zeta Phi Beta sororities. You can also view many different women's associations and leagues. Historic pictures accompany the learning options to provide a full scope of information.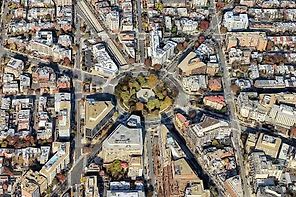 Women's Organizations in Dupont Circle
This walking tour seeks to highlight the women's organizations that made Dupont their home and the impacts they have made across the country.
Other apps launched this month include:
Cars with Character Tours
Calling all classic car owners and motoring enthusiasts! This app provides regional and topic-based tours full of places to visit and things to do. Use the app the help you drive there and read about possible destinations.
Discover Alameda Trail
Enjoy this free app which helps users explore the Alameda Corridor, a 5-mile walking and bike path. Check out art, history, dining and shopping along the path, along with nature views like ponds, bird watching, and off-pavement terrain.
Savannah Book Festival
Learn more about this free annual event that's open to the public! This app helps users view author schedules, venue locations and directions, author bios, book information, and more! It's the perfect personalized guide to accompany festival-goers.
Wave Hill
Learn more about Wave Hill by using this guided audio tour. It takes you through the gardens of Wave Hill, which include unusual trees given the New York City location. You can also choose to explore Alpine House, which includes over 100 species of alpine plants.
Valletta GPS tour
This GPS tour app allows users to view videos of Valletta's palaces and other places of interest. Check out the inside of buildings you can't access otherwise and learn about the rich history of Valletta.
Cleburne Railroad Museum
Visit the Cleburne Railroad Museum in Cleburne, Texas, and download this app which provides a 15 stop virtual tour. Complete with photos, videos, and audio commentary, users will learn so much more about the railroad's history.
Trifterlebnis Legelbach
Download the Trifterlebnis Legelbach app to experience a high-quality audio tour of this popular hiking trail! This path follows a stream and is perfect to be walked with kiddos or a dog.
Portland Museum of Art
Dive into the Portland Museum of Art like never before. Using this app, users are able to browse works by location and enter a 3 digit stop number to learn about specific works of art around the museum.
The Liberty Trail (American Battlefield Trust)
Listen to the captivating and inspiring stories of The Liberty Trail, a crucial part of history that led to victory in the Revolutionary War. The app provides a driving tour that honor patriots and shares a unique on-site interpretation of the events that took place.
The Petty Harbour: Laneways and Fishing Berths
Check out this interactive sound walk app which takes users on a unique exploration of the historic community of Petty Harbour. Acting as a personal tour guide, users will learn about local spots in town and stories about the harbour as told by its residents.
Hillsborough County Parks
This app provides users with live maps and audio tours of the area's most unique natural spots. There is also a list of hiking trails and tours, so you can do both at once. New tours will be added regularly.
The Lincoln County Historical Society
Ever been curious about life in rural Georgia in the 19th and early 20th centuries? Check out this app which provides an in-depth narration and pictures for users to tour the Lincoln County Historical Park independently.
High Point Museum
Discover and connect with High Point in a new way by downloading the High Point Museum app. Through walking and driving tours, explore the history and listen to audio clips, watch videos, and view photos from an immersive collection.