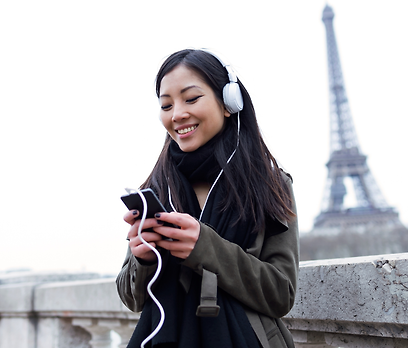 A complete breakdown based on your budget
Tour guide apps are valuable digital resources that enhance the visitor experience in multiple sectors. Organizations from museums and cultural institutions, to tour guide operators, conferences and even municipal organizations can benefit from a comprehensive, professional tour guide app as part of their on-site customer experiences.
However, many organizations aren't sure where to start when budgeting for a tour guide app. Pricing for this kind of service can range from a modest monthly service fee to upwards of $100,000 for a custom build with a private developer.
These costs are based on many different variables which we'll detail below. STQRY offers a wide range of cost effective solutions for many different industries based on your unique needs and budget. Let's break it down based on each component of building a beautiful, effective, and immersive tour guide app.
Initial Costs
Content Creation
Content is the most important part of your app, as it's the primary element that your visitors will be interacting with. "Content" refers to any audio, video, or visual components of the digital tour. In other words, the elements of your app that inform users about your site or event.
Making sure that your content is as accessible and interactive as possible is imperative to a professional and immersive digital tour guide app experience. Because of this, it can also be the most expensive initial cost of your app build, but there are ways to save.
If you need your content created from scratch, STQRY works with content specialists such as script writers, voice over experts, audio editors, and more to create custom, accurate, engaging content. These services can vary in cost based on the amount of content, but can range on average $3,000 to $8,000 per tour.
"Going to an outside organization versus creating audio content internally is going to create a more immersive experience, especially if have the budget to add background sounds, different accents, etc.," said Genevieve Hauck, Marketing Communications Manager at STQRY. "So spending more on the audio can help, but if your organization is really only using this for basic touring and, let's say, you don't want to add audio, but you want to do images and video, you can do that yourself for free."
Josh Gilbert, Director of Customer Experience at STQRY, added that if you're creating an audio tour, you can also get a $50 microphone, plug it into your computer, and record the tour yourself for a decent high quality result.
Accessibility
While outsourcing that content creation is convenient and adds to the quality of your tour, it may not be the most budget-friendly option – especially if you're looking to include multiple languages.
If you need your audio tour translated into multiple languages to increase accessibility and international appeal, you can expect to budget about $2,000-$4,000 on average for the cost of adding one language. On average, industry standards price out translation services at around 25 cents per word depending on the language.
You can also go the extra mile and have an accessibility audit performed to make sure your app meets both your visitors' needs and official guidelines.
App Set Up and Content Loading
Once you have the content of the tour ready to go, you can use a DIY platform like STQRY's to build the entire app yourself just by purchasing a subscription package. Alternatively, if you'd rather outsource the process of uploading your content, you can choose STQRY's Quick Start plan, which involves an hourly fee for uploading the content and building the tour. This option is perfect for anyone with tour-ready content, but may be lacking organizational bandwidth.
"If you're someone with very little technical skills and you'd rather not work with the builder, we have a Quick Start program where we upload your content for you as fast as possible," said Hauck. "Many clients with little to no technical experience do learn to navigate our simple-to-use platform pretty quickly though."
Gilbert says you can budget anywhere from $1,500 to $3,000 for the Quick Start services based on the amount of content you need uploaded and the number of stops in the tour that you'd like to include, but you can easily avoid this initial fee with STQRY's builder tool.
"The builder is completely do-it-yourself, so we have that Quick Start option, but probably 80% of our clients do it themselves," added Gilbert.
"It's not something where you need to be an app developer. You don't need to have specific skills because [STQRY] provides so many different options," said STQRY client Jennifer Hatton, Director of Marketing and Programming at the St. Louis Public Library.
Ownership
No matter how your content is produced, it's important to note that you have full ownership and control over all of the content that lives on your app during setup and even once the app goes live. STQRY clients have full access to the builder at any time to make any changes or updates.
"Our builder gives clients full control over their content, which works particularly well for museums and cultural organizations. Having ownership and control of their content that is copyrighted and intellectual property sensitive in these types of institutions is very important for them," said Hauck.
Tour Distribution
App Sellers
Once your custom app is built and all of the content of the tour is finalized, you'll need to make sure that your visitors can access the app.
If you're creating a web application, it can go live right when the content is finalized and you're ready to present it to visitors at no additional cost (this is suggested especially if you're creating the app for a single one-time event such as a conference).
If you'd like to create an app available on mobile devices, that will cost an additional $2,000 to build and submit to the Apple and Google Play stores. With this one time fee, you also get a free web version of the app that's available to your users if for any reason they choose not to download the iOS or Android versions of your tour guide app.
It's also important to note in terms of cost that Apple and Google Play stores take a percentage of all sales made from your app distribution on their platforms, and you should allow about two weeks before your tour or event goes live to make sure the app submission is approved and live in the app stores.
STQRY can customize your pricing plan based on your app sales, # of tours and quantity of content to ensure that your budget stays consistent. "We have a tiered plan for people selling their app that allows them to start at a low cost and the subscription increases as their sales increase," said Gilbert.
While you can try out the STQRY builder tool for free to explore the platform and make sure it's a good fit for your needs, you'll need to be on a monthly plan in order for the tour guide app to go live either as a web page or a full mobile app.
On-Site Signage/Marketing
Once your content is optimized and your app is approved, you're ready to welcome users into this digital experience. However, you'll need to make sure that your visitors know to download your app to have the most immersive experience on site.
STQRY provides on-site signage at an additional cost of $30-$50 per sign, depending on the size you'd like. These on-site signs are also branded to match your organization to create a seamlessly integrated experience.
One mistake we often see people make is overlooking the most important part of creating a tour guide app, which is letting visitors know the product exists! Although marketing can be an unforeseen cost when starting the budgeting process, with a little creativity, you may not need to spend thousands of dollars.
For example, some app sellers and tour operators have promotional networks already in place including social media, newsletter lists and more. While larger institutions, much like a museum can use their current marketing team to spread the word. However, when budgeting it's important to know whether you will need to augment current signage, print new brochures, hand out promotional cards or spend additional money on SEO/SEM. Although these costs can vary, it's all about knowing ahead of time what your marketing plan will entail.
Monthly Support
As time goes on, your tour guide app will likely need updates. You might want to create new content, or new compatibility measures might be put in place for different mobile operating systems. Small bugs may come up, or you may find a typo in your app copy that you'd like to fix.
With an outsourced, privately custom-created app, these types of updates and edits can cost up to $15,000 each and take weeks or even months to implement.
This type of ongoing support is available with any STQRY monthly support plan. Your subscription includes 24/7 access to a Customer Success Manager, as well as full access to the builder for real-time edits/updates that you can publish yourself.
"They have access to the builder at any time, so they can make those changes or additions and we're here to provide ongoing support if they have questions," said Gilbert. "Or maybe a new person is joining the team and they need a full tutorial on how the builder works – we can do that, too."
This kind of real-time access and control is particularly important for conferences and events according to Hauck. "You can update events and even send out push notifications with the STQRY platforms. You control all of the content all of the time. That's also why we work with so many conferences because in those settings, things can change rapidly. All they have to do is go into the builder, make that change, hit publish, and it's live immediately on every conference-goer's phone."
Jennifer Brook, Program Manager Humanities at Museum Victoria, cites this as one of her favorite features of the STQRY platform. "The great thing for us is that the app is easily updatable. We can adjust the user experience as we go."
In addition to this support and the fully customizable builder, all monthly STQRY subscription plans also include multi-platform compatibility, rich media support, up to 27 language translations, geofenced alerts and beacons, calendar and quiz features, along with bug fixes, upgrades, and more at no additional cost.
Custom Plans for Every Need
The most popular STQRY client plan is the Standard Plan ($199 per month or $2,295 annually), which includes 10 tours per app and unlimited downloads. For an extra $100 per month, the Pro Plan includes 25 tours per app and custom integrations. The most comprehensive plan, the Enterprise Plan, includes unlimited tours per app, advanced user permissions, and can support multiple organizations. Check out full features and pricing here.
In terms of tour guide apps specifically, if you're a tour guide operator with a minimal budget looking for basic audio features to enhance your on-site experience, you can spend minimally to get that up and running.
If you're a cultural institution such as a museum that needs more multimedia features in the app, and multiple on-site tours, you can upgrade your STQRY plan to the Standard or Pro Plan to meet those needs. If you're a large government organization with multiple sites managing various events at any given moment, an enterprise plan may suit you well.
"We're open to discussing projects with organizations with anywhere from one employee to thousands, so we're open to working with any amount of bandwidth and budget the team has." said Hauck. "We're also sensitive to what's happening with COVID in these organizations, so we're trying to work with people to help them launch these experiences. We don't want to sell people a tool. We want to sell them a solution."
The Bottom Line: What Should I Budget For A Tour Guide App?
While a private app developer may cost upwards of $100,000 for initial setup plus additional costs in the thousands for edits or updates, you can easily create your own engaging digital tour guide app for under $10,000, especially with support from STQRY. A custom STQRY digital experience app or tour guide can easily fit into your organization's budget.
__________________
Want to talk about your budget? Ask what we can do!
Contact us!