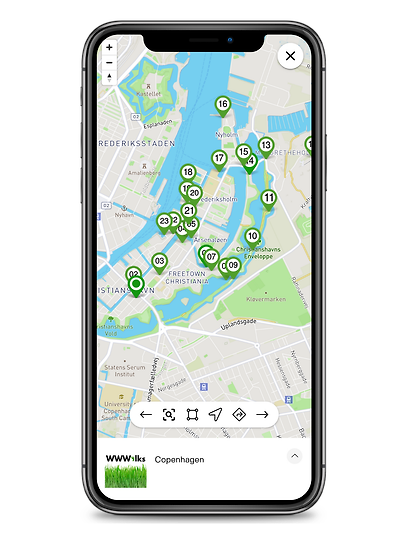 Lots of businesses and organizations create mobile guide apps to offer content to their visitors. When you use location-based technology, you can provide an interactive experience that triggers notifications to open up new content as a visitor moves through the site.
A location-based tour guide app can enrich a visitor's experience for free—or it can become a paid standalone offer (a self-guided Napa winery tour comes to mind). But creating and launching one might sound like an expensive and costly endeavor. In this guide, we show you how to set up your own in about 2 to 8 weeks, depending on how long it takes you to source the content.
Top use cases for location-based mobile guides
There are a lot of reasons why you might want to create a location-based mobile guide. Here are some of the most popular use cases for this sort of app:
Cities: You could create guides for multiple cities. If using the right technology, you don't even have to be physically located in that city to set up a guide with notifications powered by geo-tagging.
Themed tours of cities or regions: Create a tour to guide people through local historical monuments, wineries, breweries, zero waste stores, spooky haunts, or any other theme you can think of.
Universities: Some prospective students and donors don't want to participate in a guided tour. You could offer a self-guided mobile experience for those who prefer to go it alone and at their own pace.
Forest service and parks: Federal, state, and city parks are all perfect use cases for mobile guides. Help visitors navigate to important sites and features with or without connectivity.
Museums and exhibits: Use geo-location to give visitors content about entire exhibits, specific works of art, or artifacts.
Historical homes: Mansions and estates are a great opportunity for a location-based guide. You can set up content to be triggered when someone enters a room of the house or walks up to an amphitheater in the grounds.
You can add audio, video, and written content to your app. Below, we explore how to create apps for both drivers and walkers.
Geo alerts in action!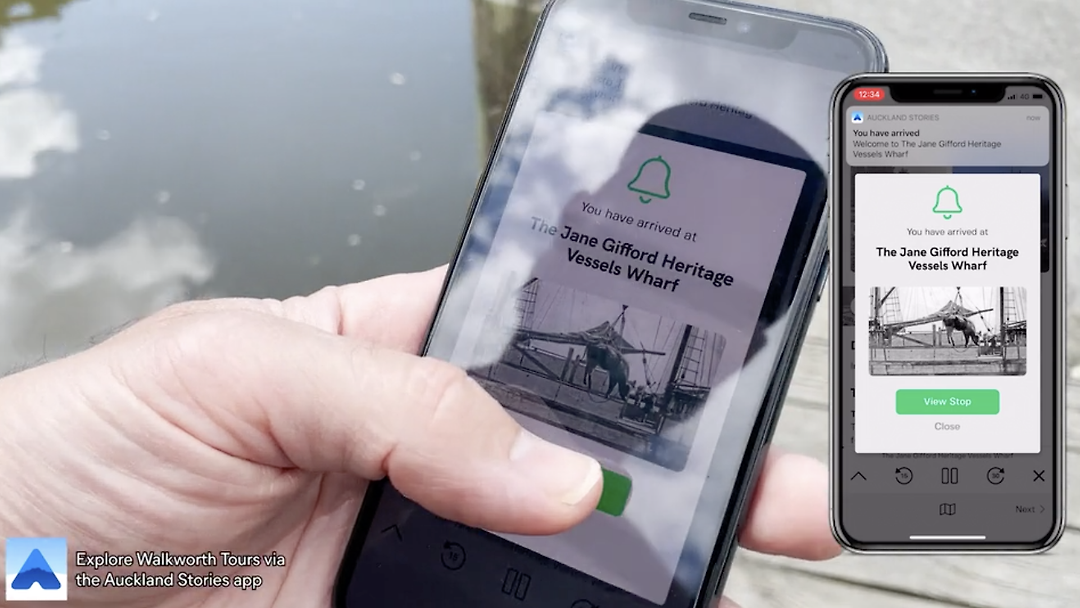 How to create your own location-based tour guide app
Creating a location-based tour guide can take a few short weeks or months if you're using the right technology. The most time-consuming part shouldn't be the tech set up, but rather content creation (audio, video, text). Here's how to create an app with geo-tagging or bluetooth beacons that will detect your visitors' location.
Step 1. Use a platform that doesn't require coding skills
Just like you can build a website with drag-and-drop designing and content management systems, you can build a mobile guide without coding. Choose a platform that lets you build a native mobile application, which is required to detect users' location. The platform should also make it easy to add content and set up location-based notifications. These notifications will prompt users to open the app if they want to engage with the content. If you're creating an app that will be used when driving, make sure that the platform offers autoplay for audio content.
STQRY cuts mobile guide app development time and cost by 80-90%.
Step 2. Choose geo-tagging and/or bluetooth beacons
As COVID-19 rates go up and down in various parts of the world, socially distanced tours will remain important for all sorts of companies and organizations. Location-based apps allow visitors to go at their own pace.
Here's the underlying technology behind this functionality, and the differences between them:
Geo-tagging and geo-fencing: No physical hardware required, no need to travel to the location to set up the guide, used for a 50-meter radius or higher
Bluetooth beacons: Physical hardware is about the size of a hockey puck or a little smaller, must be installed on the sculpture, structure, or other item, triggers a notification for around a 2-meter radius
Most applications will use one of these methods, but you could use both. For example, you might use bluetooth beacons inside a home on a historical estate, but then rely on geo-tagging throughout the grounds. Decide which ones are right for you and purchase the hardware, if needed.
Step 3. Consider the route or pathway
Next, you'll want to consider the route or path that visitors will take. You could create a few different suggested routes as part of the content, but keep in mind that if driving, visitors should use Google Maps or Apple Maps to get accurate directions and traffic warnings, and that your app will be open simultaneously.
There are a few different features that will help you strategize the content:
Audio autoplay: If the app will be used when driving, you can set the audio to automatically play as someone drives through a geo-fence.
Directional triggering: You can ensure that notifications and autoplay content will only trigger when entered from a certain direction. For example, you could trigger the first stop as someone is going north, and the final stop when someone is going south.
Block content triggering multiple times: To prevent a glitchy user experience, you could set content notifications and autoplay to only trigger once each. So if someone is walking around a park, they will only hear or view the content the first time they pass by the bluetooth beacon or through the geo-fenced area. Of course, users can always open content themselves, and this would simply prevent it from notifying the person about the same thing over and over.
Step 4. Setup the guide app and add your content
Create an enriching experience with content that will help visitors more deeply understand the rooms, features, art, and sites that they are seeing.
Depending on the type of app you're creating, you might add:
Biographies
Interesting personal and historical stories
How something was made
Tips for what to order
Suggested routes
The purpose of various structures
Geological and natural history
You can create different pages, with multiple types of content on each page. Then, use geo-tagging or bluetooth beacons to trigger these pages to send a push notification to the user. Again, the technical set up is the easy part. What can be more time consuming is sourcing high quality and original content. If you already have content on your website or on physical placards, it will be quicker for you to complete your app.
Step 5. Test it on-site
Being on-site isn't required if you're using geo-location as the core technology. (You do have to be on-site to install bluetooth beacons.) Whether or not you've built the app on-site, you should definitely test it on-site. If you live far away, you could travel to that location just for a day or two to test the app, or you could hire a freelance tester on a gig platform like Upwork or even Craigslist. You'll want to make sure that all of your settings are working properly, including locations, directional triggers, and trigger limits.
Step 6. Launch it on the app stores (with expert help)
When your app is complete and tested, you're ready to launch it. You can publish your app inside of STQRY's own native mobile app, or launch a fully branded app under your own business name for iOS and Android. The option you choose will depend on your budget and timeline, as launching a whitelabel app is more time consuming and requires additional work from our team.
Step 7. Take feedback and maintain the app
There's always room for improvement. Depending on the frequency of use and how essential the app is to your business, you'll want to test it on-site monthly or quarterly. And of course, pay attention to user feedback. Visitors will most likely love the app, and will have ideas for what other content they'd like to see.
Build a location-based app easily with STQRY
To build your own location-based app, you need an easy-to-use builder that requires no custom coding and has location-based features readily available. STQRY offers a user-friendly platform and plenty of hands-on help from our customer success team.
Learn more about building a mobile guide with STQRY.