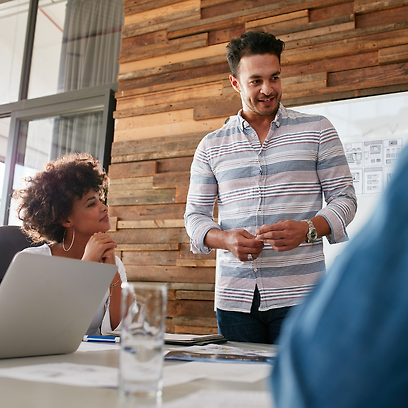 We work with clients daily to help them understand how their organization can benefit from offering a mobile app. Many times, the individuals who we work with must present the possibility of a mobile app to their organization before any decisions are made. See our step by step instructions to presenting a mobile app to a large group.
Why mobile apps are perfect for self-guided tours
For decades, museums and historic homes have rented out audio devices to visitors. Today, that's no longer a viable solution. Visitors prefer to use their own devices for sanitary reasons. Plus, mobile devices offer a decentralized way for visitors to engage in content. They can enter different tours from various directions, and better space themselves out throughout the site. Mobile apps are also a great option for tour companies looking to build a new revenue stream that won't be affected by external circumstances in the way that in-person tours are.
Tips for running the technical aspect of your mobile app presentation
Depending on what you need to get approved, you will need to include certain assets in your publication. You might include images and videos of your own custom app. With STQRY you can get started for free in order to create a small, initial version of your app, which you can then present to stakeholders for full approval. Or, you might want to add images and videos of competitors' apps in order to show stakeholders the modern, self-guided tour experience that other companies are offering to their visitors.
Here are some technical tips for sourcing the examples and mockups for your presentation:
Record a video
There are several ways to capture a video of your app in action.
For iOS devices - iOS has a built in screen recorder (which we think is super easy and we use it ALL the time). Here are the steps to adding the screen recorder to your control panel and how to take a video on your iOS device.
For Android devices - You can download one of the many screen recording apps to your Android device and then take your video. We suggest the AZ Screen Recorder. Check out the AZ Screen Recorder App for Android.
Use Reflector for any device - Reflector is a program that you download to your computer (MAC or PC) and you connect your phone through airplay or google cast and reflector will record your video directly onto your computer. It's not free ($14.99 at time of publishing) but you can use reflector live in your presentation if you don't want to show a video.
Take a Screenshot
Screenshots are an easy way to add visual content to your presentation slides.
Take a screenshot on iOS, or with Android. Because there are so many different types of Android devices, you might need to search how to take a screenshot for your specific model.
You might want to markup the screenshot in order to highlight features that are important to your organization. After taking a screenshot, iPhones immediately pop-up the screenshot editor so you can draw circles and errors.
How to display your videos and screenshots during the presentation
While you can add visual content to slides, sometimes you just want to go the simple route and display the content directly so it's full size on the screen.
If you created the file on your phone, now you have to transfer the file to your computer so that you can display it. You can use Dropbox, Google Drive or even through email to upload your file to your computer.
Now that you have your file on your computer, you will need to display your computer screen. You can connect your computer to the TV or projector with an HDMI cable. Or, you can connect a device with a technique called "mirroring" with Googlecast, Roku, or Apple TV.
Important content to present to validate the concept
When creating the slides for your mobile apps presentation, make sure that you address all of these key points:
Impact - Let stakeholders know about how the app will help offer self-guided tours, provide valuable information to more guests, digitize content and help with wayfinding.
Stability - Founded in 2006, STQRY is a well-established and stable company to build your mobile application with. Hundreds of museums, universities, parks, and tour guide companies maintain their app with our easy app builder. We can offer a long term solution.
Affordability - Stakeholders attending the presentation may not be aware that building an app with STQRY costs significantly less than if hiring a development agency to build it from scratch. Maintenance is more affordable as well. We manage all QA testing and bug fixing, and your team only needs to maintain it if you want to change or update your app's content. Throughout building and maintenance, your team does not need to have any coding skills to work with STQRY. For the more technical aspects, like launching a branded native app in the app stores, our team handles that for you.
No long term contracts - STQRY clients are not forced into long term contracts and can choose to pay annually or monthly.
How to easily build your own mobile guide app
To build your own app, it's smart to use an app-builder that doesn't require custom coding. Look for a platform that offers interactive content, advanced geo-targeting and route features, support for all media formats, and the ability to create multiple tours and collections within a single app. It's also important that the platform you choose offers options for launching: a web-app only, a branded native mobile app, or a native mobile app within the platform's own app. This way, you can choose the option that fits your timeline and budget.
Start building your own mobile guide with STQRY.