With our new in-app add-on, your users can lose themselves in the story without ever losing their way.
Last year, the industry revenue for travel-related smartphone applications was a whopping $443 billion. The most downloaded app? Google maps.
40% of smartphone usage on an average trip–whether it's in your local community or at your dream destination–is navigation. The next most popular use cases are translations and researching information.
For years, STQRY has helped companies add their content to the travel app market with custom-built, no-code, visitor-focused applications. We help our clients give people more places to go and more things to do once they get there with the help of their personal devices, independent of connectivity, and with the full benefit of accessible engagement options for every kind of learning style and language. We also help our clients give their visitors a way to engage from home.
Now, we've tackled the next step: helping people get from stop to stop–whether they're biking, walking, or driving–without the danger and disruption of pausing the tour, unlocking their phone screen, and fumbling between apps.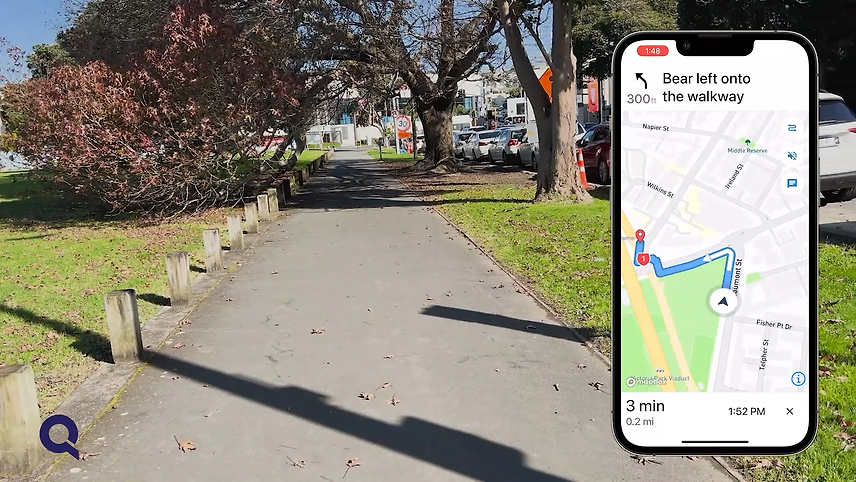 Introducing In-App Navigation
In-app navigation brings turn-by-turn directions right into your app experience. With an option to toggle between walking, biking, or driving directions, a fully functional map appears on the user's screen to guide them to their next destination. A familiar interface similar to Google and Apple Maps shows the user's location in real time, adjusting to their turns and automatically rerouting in the case of a wrong choice.
Time-tracking shows the user how far they are from their next stop in minutes and distance. Once they've arrived at the next stop on their tour, the appropriate screen will automatically trigger. Geo-fenced audio content will begin to play, creating a seamless, input-free experience. Images, transcripts, and interactive content take over the screen for the user to engage with. When they're ready to move on, they're returned to the map view for continued navigation.
Benefits of In-App Navigation Solutions
Imagine driving the green-blue coasts of Ireland with a STQRY-powered driving tour on your dashboard. In-app directions bring you along the appropriate route, charting your distance and estimated time of arrival. The audio tour begins upon your approach and the relevant image displays across your screen. When the content finishes, your directions resume, directing you through the rest of the experience.
The seamless transition from navigation to education isn't just enjoyable, it's also safer for your users. Bikers can follow the correct path, rerouting if necessary, without using a hand and taking their eyes off the road. Walking tours will be completed without users having their heads down, swapping between their STQRY-powered app and their Google or Apple map.
Real-time tracking and rerouting also make the experience safer, especially for more challenging hikes, open trails, or remote bike paths where users have to distinguish between different path options. By seeing themselves situated in the larger context of the experience, between street names and estimated ETAs, your users will be more able to trust the process and focus their minds on the experience at hand rather than the logistics of staying on track, remembering their path, and making it back.
Getting Started With In-App Navigation: FAQs
What is In-App Navigation?
In-App Navigation is an add-on feature for your STQRY app that provides integrated wayfinding for stop-by-stop navigation. It offers turn-by-turn directions within your app, eliminating the need to switch between apps.

How does it work?
Once activated, a fully functional map appears on the user's screen, showing the real-time location and guiding them to their next destination. The interface is similar to popular map apps like Google and Apple Maps. The map adjusts to user movements and offers automatic rerouting in case of wrong turns.

What happens if I take a wrong turn?
The In-App Navigation feature will automatically reroute you, ensuring you're always on the right path.

How is this different from using Google or Apple Maps?
While Google and Apple Maps provide general navigation, the In-App Navigation is tailored for specific experiences, seamlessly integrating content like audio tours, images, and transcripts. It's designed to enhance the user's experience, focusing on both the journey and the destination.

Do I need to pay extra for the In-App Navigation feature?
In-App Navigation is an add-on to the STQRY app. Please contact our sales team.

How can I activate the In-App Navigation feature in my STQRY app?
Sign up for a Mapbox account and contact our support team using the online chat or email support@stqry.com. Our support team will let you know how to configure this once we have activated the add-on.

If you have any questions about the benefits or integration process for our new in-app navigation option, reach out–we love hearing from you!