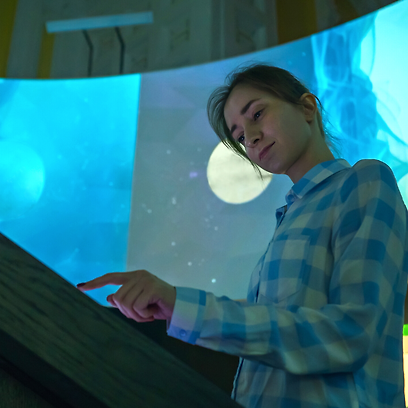 Today, we're introducing our brand new product, STQRY Kiosk to help you create interactive displays with text, video, images, audio, and more.
Whether you want to tell the backstory of a piece of art or provide interactive site maps, the options really are endless.
The platform is perfect for museums, galleries, libraries, and universities. Below, we explore the main benefits of interactive kiosks and how you can achieve them with STQRY Kiosk.
Are you interested in beta testing STQRY Kiosk?
The benefits of interactive kiosks
Digital kiosks offer a lot of benefits when compared to physical displays, because they improve content accessibility while allowing visitors to dive deeper into the concepts that interest them.
Scalable - Displays created with STQRY Kiosk are easy to install, deploy, and update.
Accessible - With voiceover and image descriptions, kiosks can improve accessibility for visual and hearing impaired visitors.
Multilanguage - STQRY offers support for 30 different languages so you can create content for as many visitors as possible.
De-cluttered spaces - With digital kiosks, you can fit a lot more information in less space.
Engaging - Visitors can choose the content they want to watch, read, or listen to.
Results-driven - Interactive kiosks can help museum managers achieve a variety of initiatives, from wayfinding and safety information to spreading awareness.
What you can do with STQRY Kiosk
Ready to create interactive displays that educate and entertain visitors?
Here are some of the most important features of STQRY Kiosk:
Create interactive content for all ages
STQRY Kiosks are great for engaging visitors of all ages. Imagine a university's student center with a couple kiosks detailing building features and resources for prospective students. Or consider a child's science museum that uses stories and characters to share important facts. A modern art gallery might display artists bios and behind-the-scenes videos.
Whoever your audience is, you'll be able to create content that deepens their experience.
Announce and promote
You can also use your kiosks to spread news about:
Upcoming events
Membership promotions
Requests for donors and sponsors
Coupons for gift shops, cafes, or tickets
You can display QR codes on your digital displays to get immediate opt-ins and purchases.
Customize layouts and content themes
STQRY Kiosk makes it easy to adjust the layout of each screen and its sub-pages. You can get started with our content themes and customize them with your own logo, font colors, fonts, and more to craft an on-brand experience.
Share multimedia content
A variety of content types will help you create experiences that are more engaging, accessible, and overall successful. Videos can be great for informative slideshows, timelapses, real project process, and featuring subject matter experts. You can play videos with or without sound, depending on the purpose.
Images and text can be great for providing more context on certain topics and site features.
Audio tracks have endless possibilities. You can play interviews with experts, stories from artists, recordings from voiceover actors, animal and nature sounds, or whatever else might deepen the visitor experience.
Create augmented reality experiences
STQRY Kiosks also offer the opportunity to create AR experiences. For example, visitors could scan a QR code on their smartphone to bring up a 3D image of an extinct animal, thus bringing it to life and amazing the youngest visitors. Or, you might use AR experiences to create a different landscape and surroundings.
Discover the most engaging content with Google Analytics
STQRY Kiosk integrates with Google Analytics to surface important insights. You can discover the most popular times of the day and week, find out which content is getting the most engagement, and understand which content isn't performing well so you can change it.
If you're using your kiosk to collect email sign-ups for your newsletter, you could even create a goal in Google Analytics to help you track how many people convert to a subscriber, so you can continually optimize your content and user flows.
Update all content in real time
With STQRY Kiosk you can push updates to all of your kiosks in real time.
For example, if you update a map, it'll be accurate on all of your kiosks across your site. Your kiosks can all have unique content or re-use some of the same content. Either way, content updates will be free of hassle.
Assist with wayfinding
You can use interactive kiosks to completely transform your site maps.
The ability to update content will prove really useful when it comes to making sure your maps are always accurate and informative.
For example, a national park might add little warnings on certain areas of their map, during the times of year where hazardous weather conditions can occur. Or, a large museum might update the map to share what areas are currently closed during construction.
Sites of any type can use their maps to provide more information. Visitors can click on an element to find out more about it. That's an especially useful feature for very large sites that require visitors to choose how they want to spend their time.
We're looking for beta testers to provide feedback on STQRY Kiosk. Interested in learning more?