Our newest apps have started 2022 with a bang! With plenty of walking tours to choose from that will take you all over the world, we're excited to see so many apps highlighting historic towns and landmarks. We also released an app that focuses more on the sciences, and one that serves as a companion guide for a gallery by an accomplished artist. Keep reading to check them out!
Savannah Walking Tour
Savannah, Georgia is full of incredible architecture, famous landmarks, museums, and shopping and dining options. The Savannah Walking Tour app helps you dive into this historic city with a GPS enable tour. It's chock full of tailored experiences such as exploring grand mansions, hidden gardens, and more! Plus, it is professionally narrated with period music and sound effects with a total of 22 tracks to choose from. Whether you're a current resident of Savannah, there for a visit, or just want to learn more, this app is a great way to discover the city's haunting secrets and rich history.
Savannah Walking Tour also has a Try Before You Buy option featuring 3 of the 22 tracks from the full tour. The Story of Savannah LITE is a great option to dip your toes in and discover Savannah before committing to the full app. But warning: once you start learning, you won't want to stop!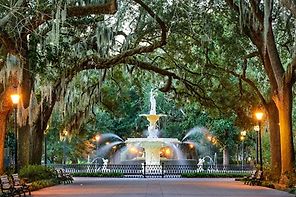 Old Town Triangle Tours
On Chicago's north side rests Old Town Triangle, a historic district that has preserved cottages and buildings from the late 19th and 20th centuries. It's been on the National Register of Historic Places since 1984 and a designated Landmark District since 1978 by the City of Chicago. It's a unique and wonderful community to visit.
The Old Town Triangle Tours app is your ticket to learning more about the city for free! Check out the assortment of walking tours offered, which will take you from forgotten storefronts, to a garden walk, to houses of worship and artists who made incredible work while living in the town. You can also learn about the history surrounding rebuilding the town into the preserved state it is today. There's even a specific tour for Halloween including 21 stops–this app has something for everyone!
Old Town Triangle Tours
Tour the historic Old Town Triangle on Chicago's near north side. The district boasts a variety of well-preserved cottages and buildings from the late 19th century as well as cultural touchstones from the 20th. The Old Town Triangle Landmark District was designated by the City of Chicago in 1978 and added to the National Register of HIstoric Places in 1984.
Other apps that launched in January:
Visit Harvard
Learn about Harvard's nearly 400-year history on this self-guided walking tour featuring facts, some never-before-seen images, and immersive videos! You'll get to experience the renowned legacy and stories behind some of the most iconic places across Harvard's campus.
Barossa Heritage Trails
Barossa is home to rich heritage and traditions which contribute to the region's vibrant reputation. Choose from three different trail options with over 20 stops to explore Barossa and expand your knowledge of its history.
Palm Springs Windmill Tour
Ever wanted to learn more about the giant wind turbines in Coachella Valley? Check out Palm Springs Windmill Tour to go on a self-driving experience that teaches you about the evolution of wind turbines through curated videos and stops.
Sacred Heart University's Discovery Science Center
When visiting the Discovery Science Center at Sacred Heart University, head to the Kiosk to play this interactive and informative app. Learn more about vaccines, Herd Immunity, and how people get sick. You can even quiz yourself to see how much you know!
Sac Heritage Walking Tours
Learn more about the city of Sacramento using the Sac Heritage Walking Tours app. Choose from six different self-guided walking tours to visit Sacramento and explore its historic architecture and diverse culture.
Fort Thomas
Use this GPS-enabled app to explore Fort Thomas and learn about Kentucky's intriguing history. With multiple tours at your fingertips, it's the perfect guide to assist you during your visit.
Larson Gallery
Download the Larson Gallery app to check out the exhibition curated by Peter Nesbett, the editor of artist Jacob Lawrence. Lawrence received numerous awards and honors for his work and this app introduces him to you while also providing audio descriptions for his art.
Explore Bowring Park
Bowring Park in St. John's, Newfoundland hosts a plethora of stories, memories, and history. Download the app and walk through the park to experience it with audio narration, photographs, and maps.
Spring Valley Nature Center
Connect with nature and history by downloading the Spring Valley Nature Center app. This acts as a portal to help you take advantage of your time while visiting by learning about the surprising natural features and facilities.