When visitors come to your museum, you want them to be engaged, immersed, and excited to come back. Done right, a museum app can be one of the most effective and affordable ways to engage each and every visitor. You can use your museum app to provide context and storytelling, as well as to share important resources.
Because of app-builder platforms, launching your own app costs a lot less than you might think.
In this guide, we walk you through everything you need to know about building a museum app.
What is a museum app?
A museum app is a mobile application that can be used on mobile devices and tablets in order to dive deeper into the museum content. Many museum apps provide imagery, text descriptions, audio, and even video for scalable storytelling. Museum apps can be offered instead of guided tours, or in addition to guided tours.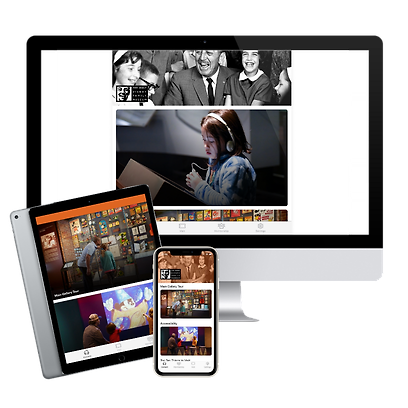 Does your museum need an app for visitors?
You've probably engaged with museum apps at other sites, but maybe you're not sure if it's time to implement an app at your own museum. Or maybe someone on your team needs convincing.
If you answer yes to any of the following, it's probably time to launch your app.
Do you have any of these needs?
Self-guided tours - You want to offer the ability for museum visitors to go on self-guided tours and have access to all of the content they need, without joining a group at a specific time.
Sanitary personal device usage - You want to do away with rental audio equipment that needs to be continuously sanitized, and instead allow visitors to use their own devices.
More membership sales and donations - You hope to engage every visitor digitally so that they have access to your membership sales and donations in the palm of their hands.
Provide multi-language content - If your museum visitors speak a variety of languages, you can use a mobile app to more easily cater to them (all they have to do is select their language to find the right content for them).
Improve accessibility - You might have sight impaired visitors that you want to provide audio content for. You might also want to add text content and captioned videos for seeing imparied visitors.
Reduce the clutter of physical descriptions - If your museum already offers multi-language content on physical displays, you might be tired of the clutter and ready to clean up the space.
Estimated costs of launching a museum app
Fortunately, launching a museum app isn't as costly as you might assume. Building a custom app from scratch can cost $100,000 to $300,000 as a one-time agency development fee, and that doesn't even include maintenance.
But if you use an app building platform, you'll pay far less and don't require technical skills.
Best of all, building an app yourself with a builder platform can take just 2-8 weeks (depending on how much effort you need to put into content creation). This is in stark contrast to the 9-12 month timeline for a custom-coded app.
Top 10 features to look for in a platform for launching your own museum app
Clearly, using an app building platform is much cheaper than hiring a software development team. But how do you choose the right platform?
Here are 10 critical features you'll want in an app builder:
1. Clear and user friendly
The best apps should be simple to understand and pain-free to navigate. At STQRY, we recommend having 3 to 5 items in your menu. For example, they might be "Begin Tour," "Museum Info," and "Memberships."
Make sure you choose a platform that has great user experience right out of the box, so all you have to do is select your options, name your menu items, and add your content. If the platform has too many different layouts or drag and drop capabilities, you run the risk of making your app too cluttered and confusing.
The app builder should offer both tours and static pages. The tours can be used to take visitors through assets in order, while the static pages can list important information such as hours, bathroom locations, gift shop descriptions, etc.
2. Interactive mapping for wayfinding
Large or multi-site museums are wise to offer interactive maps for users. People can click on different geo-tags and interact with that content.
Here's an example from Cultural Tourism DC. Every item has a picture, text description, and audio content of approximately 3 minutes in length.
3. Geo-alerts and beacon compatibility
Another important feature to look for is geo-location functionality. This allows your app content to open and play automatically as visitors move throughout your museum so they don't have to click through it themselves. STQRY offers two different ways to set up geo-triggers: geo-fencing for a 50-meter radius or higher and bluetooth beacons anything less or for use indoors.
Because of the distance capabilities, most museums will opt for bluetooth beacons. Geo-fencing is more popular for parks or city tours.
4. Multilingual support
Multilingual support allows you to reach more visitors without having to clutter physical displays with tons of content. You should allow visitors to choose their language immediately upon opening your app. STQRY supports 27 of the world's most-used languages and can add others upon request.
5. Multimedia content
The platform you choose should offer support for multimedia content so you can create an interactive, immersive experience for your users.
The technology should utilize audio and video quality scaling to provide visitors with the highest quality experience without negatively impacting load speeds.
6. Accessibility features
Tailor your content to visually or hearing impaired users to improve accessibility. For example, you might want to add image descriptions via audio for hearing impaired people and to improve the accessibility of your audio tour content, make sure to include transcriptions.
7. Features that boost engagement
Make sure to build an app that is not only educational, but engaging.
Here are some of the things you might want to add:
And remember: one of the best ways to increase engagement with your app is through geo-location triggers. Users love content that responds to their location in your museum. So focus on building your core tour content before adding other engagement features.
8. AR/VR components
If you're looking for an interactive experience or something that can be used for remote learning consider adding AR/Virtual components. A great example is Revs Institute as they allow users to tour the inside of the cars as if they were behind the wheel, all from their phone!
9. Usable on the museum's devices or visitors' own devices
Do you want visitors to engage with your app on your devices, their devices, or both? Make sure that the platform you choose can handle your requirements. Many museums will opt for both so that visitors who don't have their own smart devices can rent one.
10. Embedded ticket and membership sales
When you create a museum app, you put a lot of potential in your visitors' hands. They could purchase tickets to one of your other sites, buy an annual membership, gift a ticket to a friend, or donate to the cause. Make sure that the platform you choose can help you embed this functionality by connecting to your existing systems or suggesting the right tools.
Ready to launch your own mobile app for museum visitors?
Learn more about how STQRY helps museums build their own apps in a matter of weeks.