In conversation with Jennifer Thomas, Director of the Virginia Association of Museums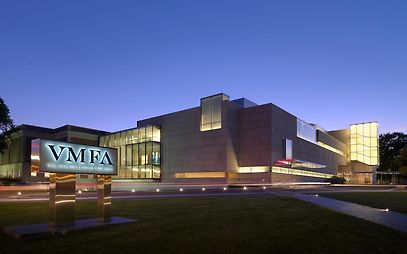 While the COVID-19 pandemic has presented extraordinary challenges to the museum industry over the last year and a half, there is hope on the horizon. Considering the monumental cultural and societal shifts since the beginning of the 21st century, museums have quickly adapted to meet the challenges of widespread crises multiple times over.
Jennifer Thomas, Director of the Virginia Association of Museums (VAM), has been working with museums for over 20 years. In addition to her work with VAM, she currently serves on the governing committee for the Field Services Alliance, and is a founding member of the Coalition of State Museum Associations. Prior to VAM, she worked with history museums in upstate New York as well as Richmond, VA as an educator and director.
This experience positions Thomas to speak directly to the massive shifts that museums have undergone throughout the 21st century, culminating in the current COVID-19 pandemic. Managing over 3,500 members of the museum industry community through VAM, she has seen museums adjust and reinvent themselves through terror attacks, financial crises, technological revolution, and more.
From this perspective, she is certain that the industry will make a strong return as the COVID-19 pandemic subsides in the coming years.
21st Century Shifts
"Museums are nothing if not resilient and persistent," said Thomas. "They have a story to tell and they want to tell it, so every time this happens – the financial crises or COVID in this case – museums have had to adapt, hunker down, and reinvent themselves, and they're really good at doing that."
Thomas joined VAM in 2000, starting as a Program Director and working her way up over the years. Shortly after she joined, the 9/11 terror attacks in New York City happened, causing economic collapse and widespread cultural fear and uncertainty.
"I remember the 2008-2009 financial crisis, but also the 2002-2003 crisis after 9/11 when everyone was very concerned and worried then, too. A lot of money disappeared," she recalled.
Funding has been a pain point for the museum industry for decades, with or without economic influence. They've relied on multiple external sources of revenue from the government and donors to compensate for low ticket prices, which reflects the mission-oriented nature of the industry. Both of these U.S. financial crises of the aughts underscored that issue.
"They're used to working with no budget. They don't like it, but they're used to it!" Thomas said about museum staff with a laugh. "It's a testament to the people who work at museums because they're so dedicated to making sure that the important mission of the museum is followed."
The Rise of Technology
With these societal shifts, a technological revolution also began as Thomas was making her way up the ranks at VAM. As the museum industry is focused on preserving the past, she noticed a hesitancy to invest in digital strategies and solutions for the future among some of her members.
"Museum staff and their audiences are multi-generational, so while the younger generation might have been excited about digital, the big hurdle before COVID for getting that off the ground was money," said Thomas. Having an online presence and digital experiences in-house takes investment and resources that some museums weren't ready to take on just yet.
"I saw some hesitancy with board members, particularly small museums in smaller towns where it's really all about community. There were some issues with board members not buying into virtual, even in the middle of COVID," Thomas noted.
She also heard questions from VAM members about what costs would be involved, what new staffing resources would be needed, how to set up new digital machines in-house like kiosks or audio tours, and best strategies for the booming social media space as the technological revolution expanded, and more as the technology revolution unfolded over the last 20 years.
To meet some of those resource deficits, Thomas saw some members apply for and receive grant money for new digital initiatives. "It's usually still not enough money to hire a regular, on-staff person to do digital for you, but it might give museums the chance to put together some materials that are reusable that they can adapt into the future," she said.
Then, as many of these new strategies and initiatives were finally being put into place, the pandemic began and the country shut down in March of 2020.
We have to invest more in digital and we have to put that into our strategic policies and plans. It's definitely happening.

— Jennifer Thomas, Director of the Virginia Association of Museums
The COVID Effect
"Everyone [in our association] was thinking about digital and talking about it for years, but the pandemic was the push that forced them over the edge if they weren't already there," Thomas said about museums' technological approaches.
Museums have always had to reinvent themselves and the way that they tell their stories to keep up with changing cultural expectations, but never quite as radically as they did during the pandemic. With on-site visitation fully off limits, creativity, community, and technology became imperative to staying afloat.
Although the pandemic is still currently raging through the country with the new Delta variant, many museums have adapted with solutions that fit the unique needs and desires of their communities. These have included new virtual tours, webinars, and other social-distance safe initiatives. With that resilience, very few museums have actually had to close as a result of the COVID pandemic.
"There will be casualties, but there won't be many museums fully closing as a result of the pandemic," said Thomas.
The slow re-opening of in-person museum spaces has brought new opportunities to merge the technological solutions of 2020-2021 with the physical space, along with new approaches to community engagement and staffing.
"We add so many new jobs to our job board every week, so they are coming back and that's great," Thomas noted. "It's not good for those who were laid off because many of them had to find another career path, so we've lost some of that institutional memory and passion, but there are open jobs and that's a really good sign."
VAM's Community-Based Solutions Helped Museums Pivot
The VAM member base is made up of businesses that serve museums, museums themselves, and the individuals that work there. Of the 3,500 members, 1,500 have attended VAM's virtual group video chats and webinars over the course of the pandemic to get inspiration, advice, and support.
"The timing was quite interesting for us because our annual 2020 conference ended on a Wednesday in March, and that Friday was when the governor shut the state down," said Thomas. "We were very lucky and planned ahead for the conference and took health precautions, but I don't think any of us knew that it would turn out the way it did."
Along with this annual conference as their main event, VAM also hosted six to eight in-person workshops per year, quarterly happy hours, and networking events throughout the year before COVID. When things shut down, they (and their members) had to get creative with their digital engagement strategies.
"We wanted to keep people connected as best we could because that's what we do. That's our role in the museum community – connecting people to each other," Thomas stated. "We started doing chats and inviting everybody – whether you were a member or from Virginia or not. We had people from Michigan and Virginia and all over join these chats for brainstorming and sharing ideas."
A few notable members that stood out to Thomas included the James Monroe Museum in Fredericksburg that set up virtual "Ask-A-Curator" live events on their page, the Woodrow Wilson Presidential Library's virtual tours, and the Virginia Museum of Fine Arts, which already had huge digital initiatives in place.
One member from northern Virginia sent their educator around to film a virtual outdoor walking tour, telling viewers things about their community that they could then go out and explore for themselves, as outdoor activities are COVID-safe.
Patrick Henry's Red Hill site, located in a very rural part of Virginia, has limited internet access, so they decided to work with the local school districts to put together a resource packet to send out with the free lunches for the children to access their learning materials at home.
"All of our museums did such a great job with these different initiatives," Thomas said proudly. These varied and unique approaches to community engagement are a testament to the resiliency and persistence of museum staff and the industry in general, but there is still much to do to plan for the future.
"I think there's a reimagining of strategic plans and budgets," said Thomas. "We have to invest more in digital and we have to put that into our strategic policies and plans. It's definitely happening."
Looking Ahead
Finding that balance and resource division between digital and traditional initiatives has been a common theme that Thomas has seen both in conversations with her VAM members and within her own organization.
"The question is: how do you balance those digital experiences to engage people outside of your visiting area, while still encouraging people to come and see the real thing? That's a big conversation that a lot of us are having right now," Thomas said. "I don't know if anybody has figured out the right balance yet."
Despite this question mark on the future, Thomas has full confidence in her members and the industry as a whole. "If they need to change and adapt how their mission gets presented or how they tell the story or how the community interacts with them, they'll do it," she said. "They'll bounce back. I have no doubt."
Need help presenting your mission?