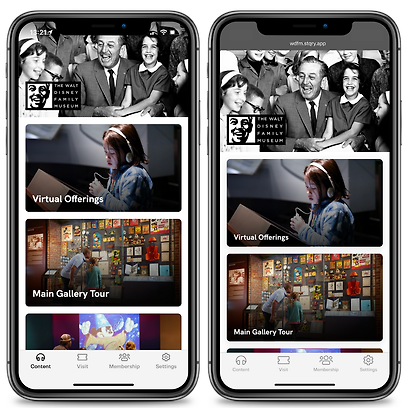 A guide app gives your visitors access to content on their own devices—no need to rent audio equipment or hunt for physical displays.
Mobile guide apps are offered by museums and galleries, parks and forests, universities, local cities and regions, and lots of other types of sites. You can add image, text, and audio content to your guide, and even set up direction-based and location-based notifications.
But once you've decided to actually build an app for your own company or organization, you're faced with another decision: should you create a native mobile app or a web-based app?
In this article, we walk you through the difference between these types of apps and how to choose the right one.
Native apps versus web apps: what's the difference?
Let's clarify the difference between native apps and web apps. Fortunately, both are simple to build without hiring an in-house developer or software development agency. (We'll cover building and launching towards the end of this article.)
Native mobile app - A native mobile app is one that is downloaded from an app store, such as the Apple AppStore or the Google Play Store, and works outside of a web browser. Depending on the nature of the app, it may require internet connectivity to work. For example, you can use a photo collage app without an internet connection, but you can't watch TikTok videos.
Web-based app optimized for mobile devices - A web-based app, also known as a progressive web app (PWA), on the other hand, is one that works in a browser. If you go to a website on your phone to calculate potential rates for refinancing your mortgage, for example, you're not really using a website, you're using a web-based application. Unlike native mobile apps, which might offer some functionality without internet access, web-based apps can't function at all.
Lots of companies offer both. Most likely, you've used Yelp or Amazon. If you visit these sites using Safari, Edge, Firefox, or Chrome on your phone, then you are using their web-based application that has been optimized to work well on mobile phones, not just desktops and laptops. But, if you go to the Apple app store or Android app store and download Yelp or Amazon, then you are using the native mobile app, which will likely offer some additional features that you can't get using your browser.
Reasons for choosing a native app
Why choose a native mobile app that can be downloaded from an app store? Here are the top reasons.
You want to use geo-triggers
If you want to create a mobile guide that will notify users to engage with content based on their physical location, you need to build a native app. A web app can't provide that functionality.
If you use STQRY to build your native app, you can use both geofencing and bluetooth beacons that work in the background to alert you to content. Geofencing is great for larger ranges, while bluetooth beacons are a fit for specific features, like a small room or fountain. With both technologies, you can send push notifications to visitors to open related content.
You want visitors to use the app without needing the internet
Does your site not offer WiFi? Is mobile data connectivity sparse or unpredictable? If so, you can encourage visitors to download your native app before they arrive. Then, they'll get all of the information they need without having to access the internet.
You have the budget and time
A native app will take a bit more time and investment, although the difference isn't drastic if you are using a platform such as STQRY. If you do want to offer a native app, you have two options. You can offer your native app inside of our own app, STQRY Guide, (users will download STQRY Guide then search your brand name), or you can offer a fully branded, white-labeled app in app stores under your name. There's no extra cost to be included in STQRY Guide, but there is a one-time setup fee to launch your own branded app. The setup fee covers the cost of our development team to create the developer accounts and assist with Apple and Google app reviews.
You want to offer both a native app and a web app
Do you want the best of both worlds? Well, then that's a reason to build a native app. With STQRY's monthly fee, you get both a native app hosted in our app and a web-based app. This way, your visitors can choose to download content before they arrive or they can use the web browser on their phone to consume the content without having to download anything.
Reasons for choosing a web app
Now, let's explore why you might want to choose to create and promote a web-based app (progressive web app).
Ease of access
Using a web app is as easy as opening a browser. There's no need to download anything. Many visitors prefer to access a website and not clutter their phones with new apps, so consider your target audience and the length of their stay.
The app is for a temporary exhibition
If the app is for a temporary exhibition, it'll be much faster to just build a web-based application. You can ditch the geo-triggers, and encourage visitors to click the content in order as they tour the exhibit. Or they can open up whatever page strikes their fancy.
You want to test popularity before building a native app
Maybe there's some internal disagreement within your company about whether or not you should launch a branded native app. If so, you can start with a web-based application, get feedback from visitors, and consider the investment in a native app later.
You have a short timeline to launch
Are you running out of time to launch? Maybe you're looking to build a guide for an upcoming event. If, so you can launch a web application in just 2 to 3 days. The time consuming part is sourcing the content. If you want to add your app to the app stores, that would add another 2 weeks to your timeline, so a web app might be the right solution.
Your visitors will have internet connectivity
Many museums, art galleries, and other indoor sites often offer WiFi—or are at least located in cities where visitors can access the internet using their data. In these settings, visitors might appreciate a quick visit to a web app with their browser, rather than having to download something.
How to build a mobile tour guide quickly
Whichever option you choose, the good news is that launching a mobile tour guide doesn't have to take several months. If you use an app builder (instead of coding an app from scratch), you can launch your app in 2 to 8 weeks, depending on the type of app you choose and whether or not you need to create new content.
Launch a mobile guide app with our easy builder. Learn more about STQRY.