Last month we had a number of apps go live which delved into the history of incredible places around the globe. From Talkeetna to Balamu to Charleston and more, users can make the most out of their visits to these places by using the apps below, many of which include guided tours with numerous stops. As we near the end of the year, these present the perfect opportunity for one final exploration trip before we say cheers for 2022!
Talkeetna Historic Tour
Wander through the historic village of Downtown Talkeetna using this interactive app which includes 22 engaging stops. The tour mostly stays downtown, which is listed on the National Register of Historic Places and stops at the museum which works to preserve the heritage of their pioneering past.
Talkeetna has been intermittently occupied by several different nomadic tribes of Natives for thousands of years. According to recent linguistic studies, each tribe similarly named the area to terms that roughly translate to "where flowing waters meet" or "food is stored river." There have also been arrowheads, food cache pits, and other signs of habitation found during research and archeological digs. Come explore this incredible place that's rich in history!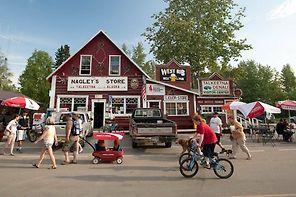 Balamu
Explore the beauty of Sri Lanka with BALAMU, an immersive app that asks as a tour guide. Travel down unexplored paths and experience the vibrant history and culture of this timeless destination. The app will help you navigate using self-guided tour maps while intriguing stories will paint a vivid picture of the history and culture.
The tours consist of curated map routes and captivating audio and can be accessed offline once downloaded. The Dambulla tour includes seven stops that takes users through the 5 caves of the Golden temple, which contains a total of 153 statues of buddha, three statues of Sri Lankan kings, four statues of gods and goddesses, and over 2,100 square metres of murals throughout the walls and ceilings. It's an incredible experience, and all tours are very affordable!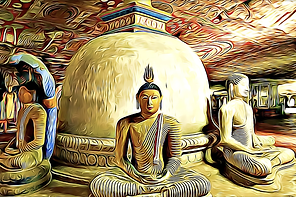 Other apps that launched in November:
ICA Miami
At the Institute of Contemporary Art, Miami, explore the most innovative art of our time and use this mobile guide as your companion. It provides information from museum curators, contemporary art experts, and even the artists themselves occasionally. The tour stops are identified in the galleries with a headphone icon.
Discover Charleston Mag
This app dives deep into what gives Charleston, AKA the Holy City, its unique appeal. Learn about its renowned architectural heritage, esteemed art galleries, delectable culinary scene, and thrilling shopping district. It's the perfect companion while you walk the cobblestone streets.
Portside Walking Tours
This 2km tour is the perfect way to spend an afternoon in Portside. Explore the heart of the West End Culture and Heritage by visiting 17 enthralling stops. Learn about Port Hedland's town as it celebrates 125 years since being gazetted and view the current home to a range of retail, tourism, community, arts and food businesses.
Great Places 2 See
With the Great Places 2 See app, it's like having your own personal tour guide in your vehicle. The audio tours will pick up on your GPS and play automatically as you travel, giving information on geology, history, nature trails, wildlife, and more!
Biotrails Walking Tours
Check out these self-guided walking tours that provide an expansive selection of the best trails in Arrabida Natural Park. Explore round trails and the Arrabida's Great Archaeological Route, along with stunning views and landscape.
Living History Park
Experience firsthand what it would have been like to live during the colonial times. Through an immersive demonstration of colonial life, explore Willow Springs which is typical of a village in North Augusta during the 1735-1785 period. The park also holds public events with interpreters dressed in period clothing and live demonstrations!
Stone Mountain Park Historic
This app provides an easy to navigate guide that will "edu-tain" you about Stone Mountain, its history, beauty, and the many people who have worked and lived there. Discover the access code found on the attraction map in the park and then choose which guide you want to follow.