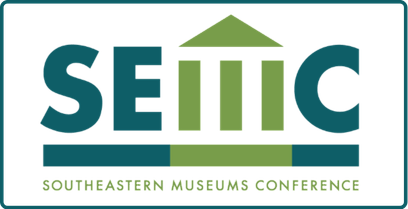 The Southeastern Museums Conference (SEMC for short) is an 501(c)(3) non-profit networking organization for museum leadership and staff throughout the southeastern region of the United States, including Puerto Rico and the U.S. Virgin Islands. Currently, SEMC serves over 1500 professionals and institutions of all sizes providing community, professional development, and exchange of industry innovation.
SEMC's primary event was an annual conference in the region with industry experts, exhibits, networking events, and more. When the COVID-19 pandemic hit the U.S. in March 2020, Zinnia Willits had just accepted her position as SEMC's Executive Director.
"When I felt like I hit points in my career that were a ceiling of some sort, I would turn to professional organizations like SEMC as a place to learn new things and challenge myself in different ways," said Willits.
She was on the board of SEMC for five years prior and president for the last two years, but Willits formally transitioned out of her role as the Director of Collections and Operations at Gibbes Museum of Art in May 2020 to focus her efforts on SEMC.
From March to May 2020, she had hands-on experience with museum staff during the pandemic lockdown. This gave her unique insight into the issues that members of the SEMC community were experiencing in real time.
With this massive change in both her career and the world at large, Willits knew that her first order of business at SEMC would be fundamentally shifting their approach to member engagement in order to maintain positive relationships. The "C" in SEMC would have to switch from "conference" to "community" – indefinitely.
The 2020 Problem For Museums
Like many other event-oriented businesses, SEMC's primary issue posed by COVID-19 was the social distancing restrictions that prevented gatherings of more than about 10 people.
When Willits began her role as Executive Director at SEMC, she was in a uniquely advantageous position because she was able to hear from both industry leadership, who were worried about losing revenue, and frontline staff members who were feeling unsafe going into work and potentially contracting the virus.
"Obviously, the last six months have been pretty turbulent for the world. Museums have faced a reckoning that they've never faced before – not only with precarious financial situations being brought to light, but also with staffing situations." she said.
With this comprehensive view of the problems that the museum industry faced from the pandemic, Willits was able to create a holistic approach to this massive, but temporary, setback. "In my position, where I am now, I have seen and heard a lot over the last six months about the state of the field. One of the things SEMC tried to do was provide consistency and connection."
It's been interesting to watch how social media and technology have integrated into all of this need for change, and how different museums are using it, not necessarily even to their advantage, but just to continue to be relevant in the way that is needed..

— SEMC Executive Director, Zinnia Willits
SEMC's Comprehensive Solution
Willits' solution to the problems facing the industry was based on community engagement, focusing primarily on providing daily useful information and support to all 1500+ SEMC members.
Her organization's main interaction with members was an in-person annual conference, so she pivoted from one major touchpoint per year (plus a few reminders throughout the year) to interactions nearly everyday.
Willits figured out how to successfully facilitate and integrate a variety of unique digital membership initiatives including a newsletter with member spotlights, Facebook live events, webinars and leadership training via Zoom, and more. Since March, SEMC has provided over 60 opportunities for connection with their members.
Within those initiatives, members would be able to showcase their unique approaches to the pandemic conditions and Willits would provide industry-level insight and encouragement. This way, members could learn from each other while implementing a large industry-wide shift toward technological innovation.
"It's been interesting to watch how social media and technology have integrated into all of this need for change, and how different museums are using it, not necessarily even to their advantage, but just to continue to be relevant in the way that is needed," said Willits.
Room for Improvement
Digital solutions seemed like a natural solution to many museums and other art establishments around the world that were finding creative ways to stay in touch with members. What most of these establishments didn't account for was the idea that these digital solutions would have to become a long-term alternative to maintain relationships with members and visitors as the COVID-19 pandemic comes up on its one year mark.
However, prior to COVID-19 and worldwide shutdowns, investment in immersive digital experiences wasn't a high priority for many institutions in the museum industry. As the mission of these institutions is in many cases, preservation of the past.
Although Willits implemented a variety of digital solutions for her organization and saw many creative technology strategies from members, she was surprised that some still did not have basic social media accounts.
However, she is confident that most museums have now embraced the reality that digital experiences will be a necessity for operational success – not just to deal with the issues of today, but to maintain relevance well into the future.