September brought the launch of many amazing new apps. Last month, we especially saw a large number of apps that are providing self-guided tours around cities. We love seeing these locations get highlighted and recognized for the interesting and rich histories many of them have. Read on to learn more about which apps went live last month.
The City is Our Museum
This brand new app allows users to explore Cleveland's public art and public spaces through self-guided tours. It's the perfect way to learn about the artists, organizations, and neighborhoods that create this work.
Also known as TCIOM, this app provides tours throughout Cleveland that can be experienced on foot, by bike, and even driving. It takes you throughout the city, such as through west side neighborhoods of Ohio City, Detroit Shoreway, and Edgewater Park. There are also trails, parklands, city sidewalks, murals, sculptures, tunnels, and buildings that are attributed to giving the neighborhood character. You can also take tours of the city center to view historic artwork and distinctive architecture. LAND studio, a Cleveland nonprofit that developed the app, also plans to add new tours periodically in the future.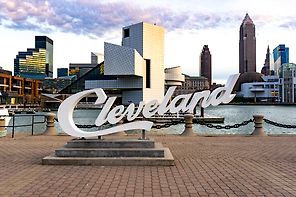 Other apps launched this month include:
Downtown Winnipeg Tours
Downtown Winnipeg Tours is the best way to explore downtown Winnipeg for free. It even includes the Best Furry Friend "BFF" Tour, which is the perfect walk for pet owners with over twenty different stops.
Discover Salisbury
It's time to visit Salisbury! Choose from either a walking or driving tour and explore the best parts of this popular city in South Australia just half an hour from the Adelaide CBD.
Flight in the Salt
This artistic collaboration focuses on the Atanasovsko lakes near Burgas. Through the app, users will have access to the gallery of paintings, a short movie, a dance performance, and an audio guide that will share the stories of the lagoon. All without having to leave your home!
Alameda Preservation
This narrated audio tour gives a wealth of information along with relevant pictures pertaining to the Alameda area in California. This city is rich with Victorian and arts and crafts houses and buildings, with over 1800 being State or National Register eligible buildings. Try these self-guided walking tours to learn about the historic buildings and neighborhoods.
Wisconsin Maritime Museum
Check out the Wisconsin Maritime Museum using this self-guided tour app. Learn about Wisconsin's waterways along with the Great Lakes, Wisconsin's maritime history, World War II submarines, and also USS Cobia.
Harriet Tubman - The Journey to Freedom Together
The Town of Sylva and The Jackson County NC NAACP Branch #54AB have joined together to host Harriet Tubman – "Journey to Freedom." This traveling monumental sculpture will be on public display in downtown Sylva at Bridge Park from mid-September to mid-December 2021.
Crane House and Historic YWCA Audio Tour
Explore the Montclair History Center with this guided audio tour that introduces users to the Israel Crane House and Historic YWCA, a building that is one of the oldest treasures of Montclair and full of rich history.
Humble Museum
Use this audio tour when you visit the Humble Museum to tour the exhibits. It also includes two driving tours with historic markers and sites in Humble, along with a Walking Tour of Historic Downtown Humble.
Treasures Along the Erie
Explore the 363-mile waterway that connects the Great Lakes with the Atlantic Ocean via the Hudson River in upstate New York. Learn about 200 years of canal history while hiking, paddling, boating, or driving the 60-mile stretch of the Erie Canalway Trail which spans from Macedon, NY to Camillus, NY.
Nature 360 Walking Tour
Explore the Canadian north using this new augmented reality app. Nature 360 allows you to walk in your own neighborhood while still feeling like you are stepping into the wild by bringing the wonder of nature to you.
History of JBER, Alaska
Ever want to learn about the history of JBER, Alaska? Now, you can! This new app highlights the history of Joint Base Elmendorf/Richardson, Alaska by emphasizing memorialized roads and buildings, along with static displays and historical events.
Textile Crescent Driving Tour
This STQRY-powered self-guided driving tour explores the Textile Crescent – the men who built an empire which led to South Carolina's dominance of the Textile industry in the world. It brings to life the history of these men and the mills that laid the foundation for making South Carolina the influential Textile Center that it is.