When you're researching software tools for tourism companies, it's hard to know where to start. There are booking tools, digital experience tools, marketing tools, and more.
What's more, the tourism industry consists of a wide variety of businesses, from multinational corporations to mom-and-pop tour guide operators. Small businesses can perform well with all-in-one style software that allows them to manage as much of their business as possible all in one place. Meanwhile, larger companies need to piece together a variety of best-in-class systems and integrate them seamlessly.
To make your research for solutions a whole lot easier, we've selected winners across a variety of categories.
Tourism Industry Software Category Winners:
Keep reading for all the details on our top picks.
1. Best Audio Guide App Builder: STQRY Apps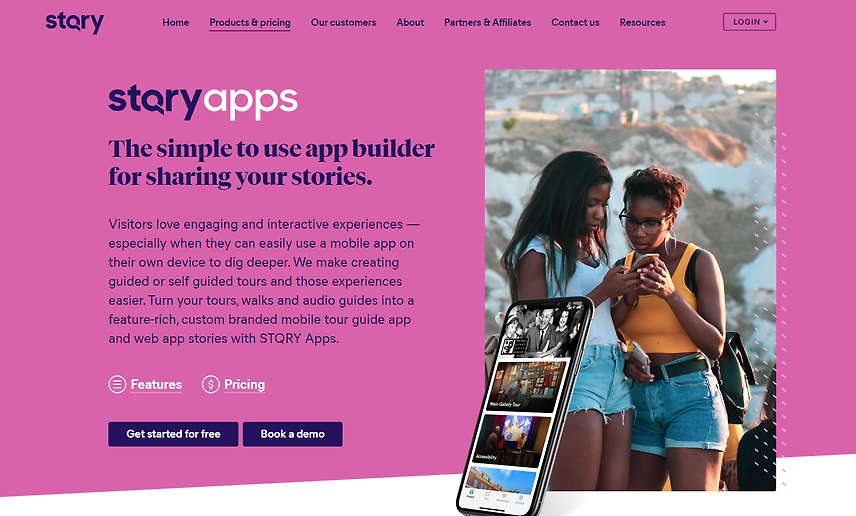 STQRY Apps makes it easy to create your own audio guide app for visitors. This audio tour can be offered in conjunction with docent tours, or all on its own if you struggle to staff enough docents (or if your target audience prefers digital experiences). You can offer the audio guide app for free or charge a one-time fee. Load up your app with high-quality images, audio, video, and text descriptions of the most important features of your site. If your site is remote, encourage visitors to download the content before they arrive so that it will function without wifi.
Top features:
Support for multimedia content
No coding experience required
Site map and wayfinding
GPS and Bluetooth-triggered content
Content analytics
Pricing:
The lowest plan starts at $199 per month, which is a fraction of the cost of developing an app from scratch.
You can also use STQRY Guide if you'd rather launch your audio guide quickly within our mobile app, instead of having to submit your branded mobile app to the Apple and Android app stores. And if you want to make sure that visitors who don't have smartphones can interact with your content, use STQRY Fleet to run your audio guide on your organization's mobile phones and tablets and then provide these for use.
2. Best Park Maintenance & Operations Software: EZFacility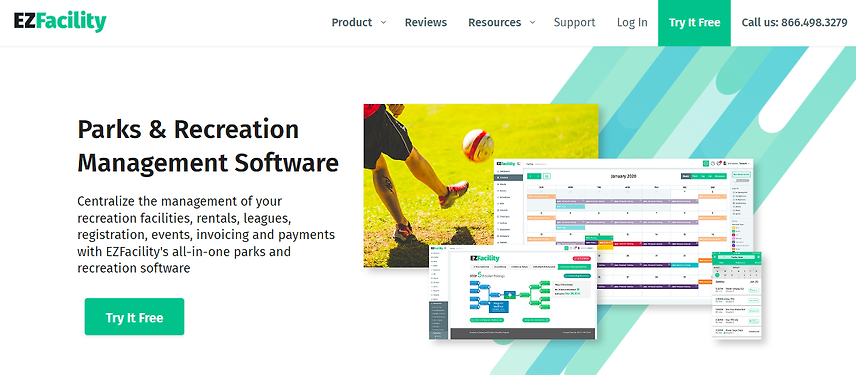 With EZFacility, you can manage any type of park, club, sports facility, or visitor attraction. The platform serves as an all-in-one solution for storing customer contacts, collecting one-time and recurring payments, managing product and site inventory, and communicating with customers. There are even features for employee scheduling and timesheets, which can eliminate the need for a separate workforce management system.
Top features:
Class registration
Facility scheduling
Ticket purchases
Member management
Payment processing
Inventory management
Pricing:
EZFacility only offers custom pricing, so you'll need to get in touch with their sales team for a quote based on the features you're interested in, the number of users on your team, and the size of your customer database.
3. Best Frontline Workforce Communication Software: Workvivo

Larger companies in the tourism industry will need dedicated workforce management solutions to help them measure and improve company culture and employee engagement. Your employees hold a wealth of knowledge on the success of your various initiatives and what might make your customer experience better. Workvivo offers a more modern format for sourcing all sorts of feedback from employees. The platform is recommended for companies with 30 or more staff members. Smaller businesses can use free survey software and organize focus groups to source feedback and ideas.
Top features:
Employee polls and surveys
Employee awards and incentivization
Social platform to connect employees
Integrations with payroll software
Pricing:
Workvivo only offers custom pricing, so contact them for a quote based on the features you want and the size of your workforce.
4. Best Software for Art Gallery Management: ArtCloud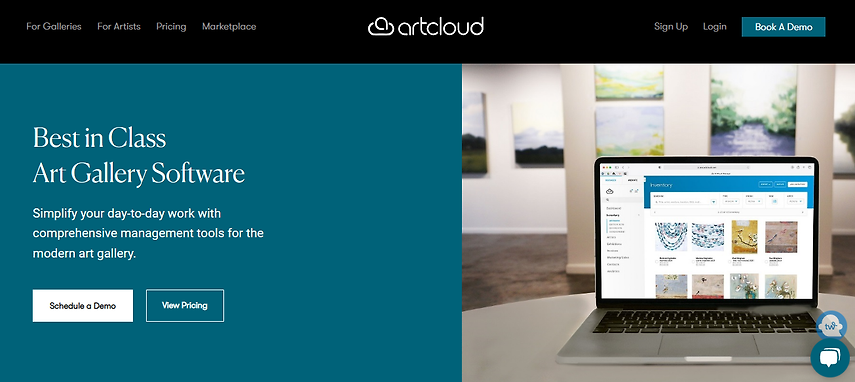 ArtCloud is an excellent all-in-one software for art galleries. Art galleries can use ArtCloud to manage their inventory (originals, prints, and merch), sell products online, store customer contacts, and send email campaigns. This makes it a great system for galleries looking to reach a broader audience and stay connected with tourists when they travel back home. Cultural heritage sites can use ArtCloud to manage their gift shop inventory and online store.
Top features:
Gallery inventory management system
Website builder
Synching between inventory and website
E-commerce store
Contact management system
Email campaigns
Pricing:
You'll pay separate prices for the gallery inventory management system (starting at $79 per month) and the website builder (starting at $49 per month).
5. Best Software for Digital Labels and Interactive Displays: STQRY Kiosk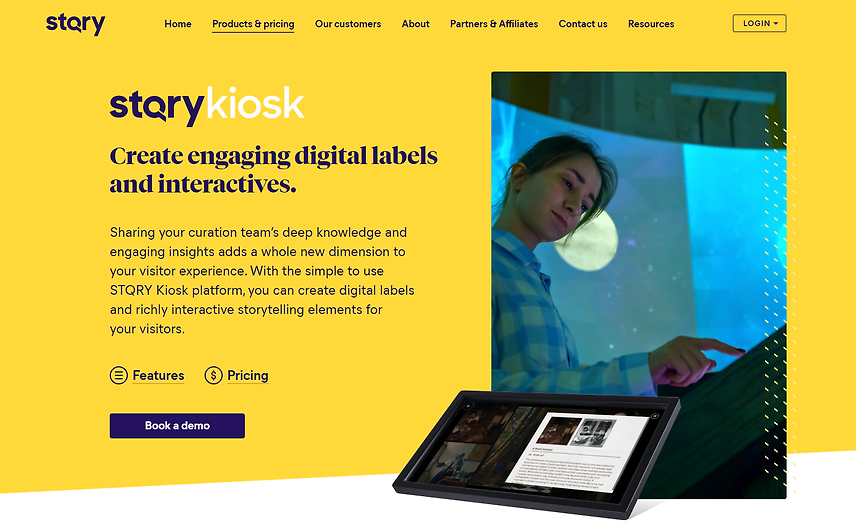 STQRY Kiosk is a great solution for managing digital labels and interactive content. In addition to creating multilanguage labels for your various exhibits, you can also use STQRY Kiosk to create site maps, promote your upcoming special events, and share QR codes for app downloads, AR experiences, or gift shop coupons. You can keep your displays simple with just a single page of content, or create choose-your-own-journey-style content experiences within maps, timelines, and artistic renderings.
Top features:
Content themes
Support for multimedia content including 360 degrees and AR
Support for 30 different languages
Accessibility options for hearing and vision-impaired visitors
Pricing:
STQRY Kiosk starts at $95 per month with a one-time setup fee of $495. Additional screens cost $45 per month each.
6. Best POS and Mobile Ticketing Software: GateMaster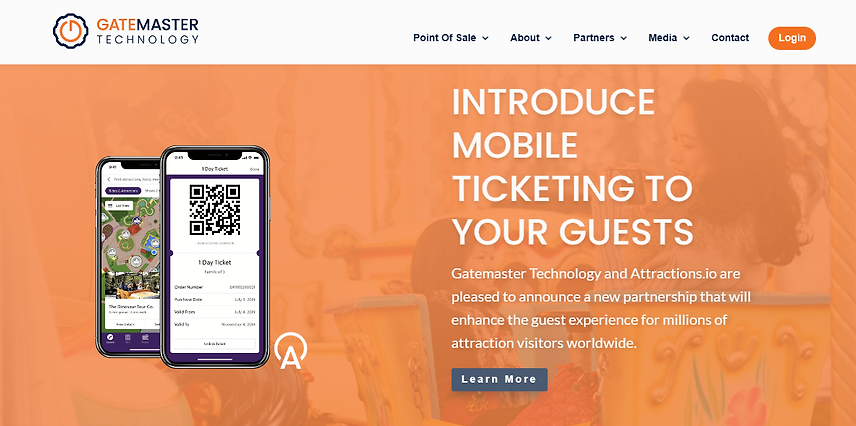 GateMaster is a popular platform for the tourism industry because it offers point-of-sale technology and mobile ticketing in one place. You can use it to sell individual tickets and products as well as group excursions. Their customers include museums, galleries, amusement parks, aquariums, campgrounds, and zoos.
Top features:
In-person POS
E-commerce POS
Mobile ticketing
Revenue tracking
Party booking and group sales
Pricing:
GateMaster starts at $89 per month. Plans are charged per user.
7. Best Data Analytics Software for Visitor Attractions: Dexibit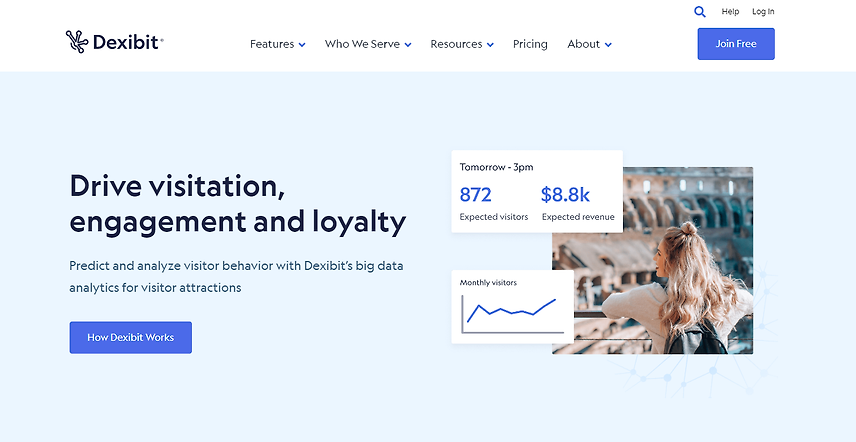 Dexibit is a comprehensive data analytics platform designed for visitor attractions. You can track both your online and in-person visitors. Integrate data from various sources, including your website, revenue systems, and on-the-ground data sensors for tracking foot traffic and dwell time. Pre-built dashboards and reports help you make sense of your data.
Top features:
Data insights based on machine learning
Integrations with 60+ data sources
No data science experience required
Pricing:
Dexibit's pricing begins at $499 per month. To integrate footfall data, you'll need to contact them for a custom plan.
8. Best Software for Digital Collections: STQRY Collect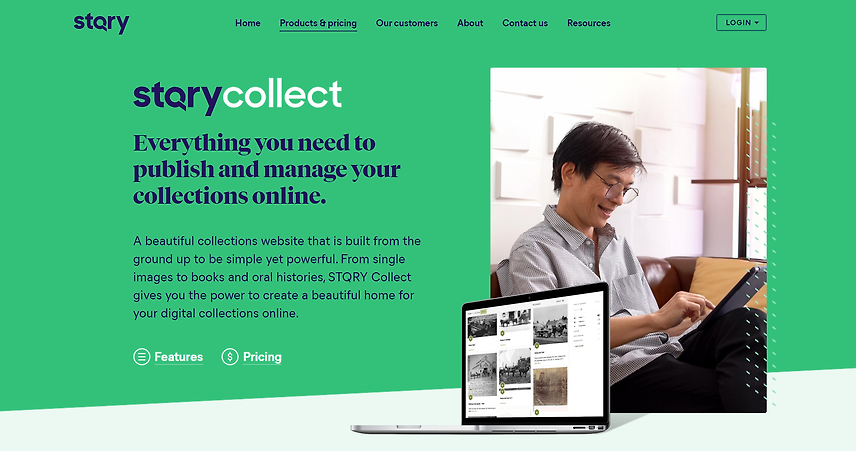 Because of the complex nature of launching digital collections, you should use dedicated software instead of a website builder. With STQRY Collect, you can manage and publish digital collections from one central location. The platform is designed for museums and cultural heritage institutions that want to make their collections widely available online as well as on-site. Through SEO optimization, you can make your text, video, audio, and image files discoverable on the internet—thereby increasing visibility and potentially gaining more supporters and sponsors for your mission. And with comments and custom articles, community members can share their own perspectives, allowing you to collect rich stories as part of your living content archive.
Top features:
SEO optimization
Community engagement
Content tagging and categorization
Custom layouts
Content themes
Pricing:
Our standard plan starts at $500 per month with a one-time setup fee of $5000. However, small organizations can contact us for discounted pricing.
9. Best CRM & Marketing Automation Software: ActiveCampaign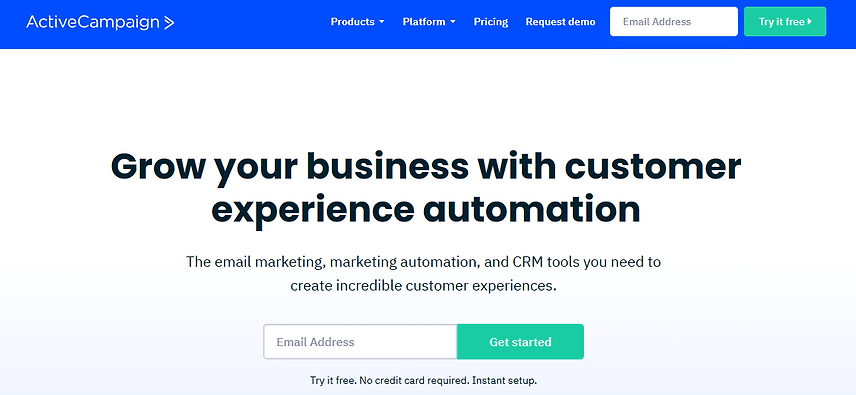 There are a lot of software platforms for tourism companies that include customer relationship management (CRM) and marketing features alongside industry-specific needs like inventory management and ticketing.
However, it's typically recommended that you have a dedicated platform for your CRM and marketing automation needs. Why? A popular, industry-agnostic solution like ActiveCampaign will be able to integrate with any other system you might use. Whereas if you use a more niche platform, you'll probably struggle to integrate it with your entire marketing and revenue tech stack, leading to data siloes. With ActiveCampaign, you get access to extensive integrations, a CRM to track contacts, leads, donors, customers, etc., as well as email and SMS marketing automation.
Top features:
CRM
Customer journey automation
Email marketing
SMS marketing
Landing pages and forms
Lead scoring
900+ platform integrations
Pricing:
ActiveCampaign's pricing starts at $9 per user per month. To get access to all key features, you'll need their Professional plan for $149 per user per month.
10. Best Software for Digital Asset Management: Bynder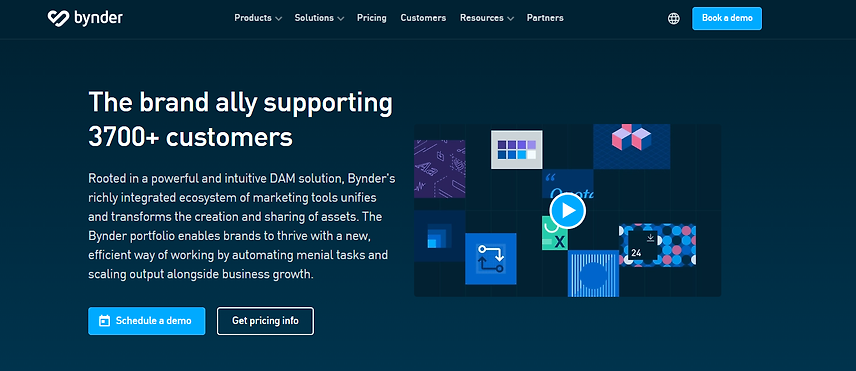 We've covered two platforms that are great for managing your assets (ArtCloud for art inventory and STQRY Collect for digital collections). However, you also need a digital asset management system for securely storing and sharing internal assets and intellectual property, such as your logo and promotional materials. With Bynder, you can save all sorts of multimedia assets and describe, categorize, and tag them. Then, you can share them with the right people on your team. The platform can be used by marketing, sales, event management, museum curation, and operations teams to streamline their collaboration.
Top features:
Digital asset management system
User access and permissions
Search and filtering
Digital brand guidelines
Content workflow management
Pricing:
Bynder only offers custom pricing, so get in touch with them about your feature needs and number of users.
11. Best Reservation Management Software: Checkfront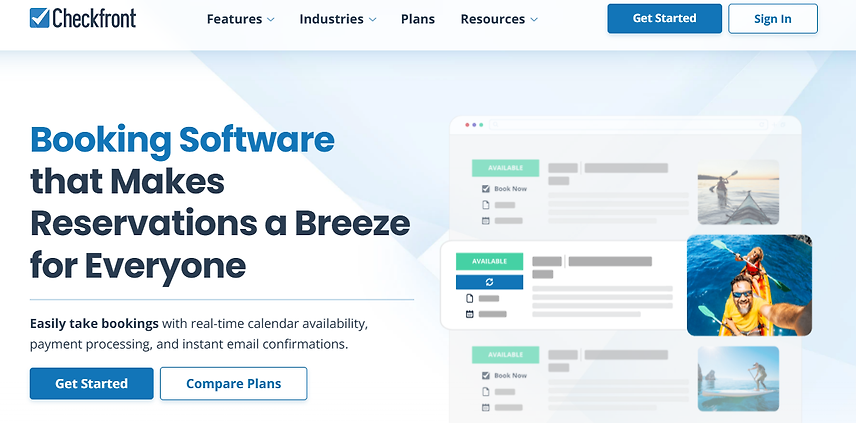 We've selected Checkfront as the best reservation management solution because it can work for so many different types of businesses. The platform is equipped to handle reservations for tours, rentals, activities, and accommodations. You can use it to streamline your bookings across all channels, from in-person and over-the-phone bookings to seamless connectivity with OTAs that resell your inventory.
Top features:
Daily, hourly, multi-day, and timeslot bookings
Equipment, room, and event reservations
Business analytics
Customer onboarding communications
Payment processing
Integrations with website builders such as WordPress and Drupal
Management of multiple booking channels, including OTAs
Pricing:
The lowest cost plan is $49 per month and includes 2 staff accounts, while the top tier plan costs $199 per month and works for up to 10 staff accounts (with additional user seats available for purchase).
12. Best Augmented Reality Software: UniteAR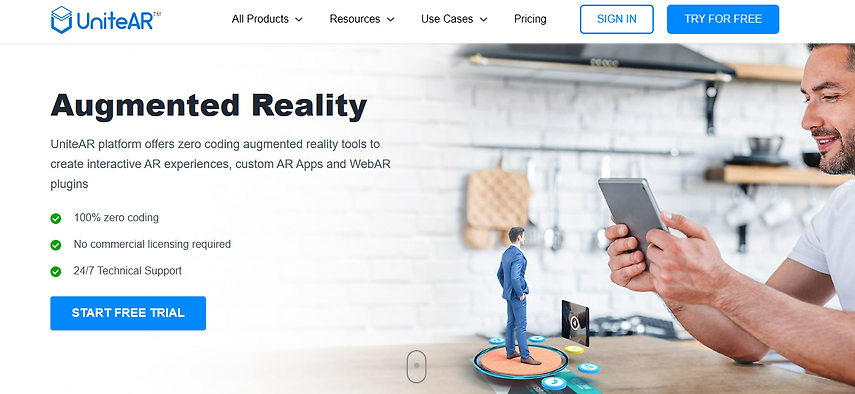 UniteAR is a popular augmented reality platform that lets you create interactive AR experiences without coding them from scratch. You can use UniteAR to launch your mobile app or add AR experiences to other platforms, such as your digital collections or on-site kiosks and digital labels. AR is great for bringing things to life: cellular models, instinct animals, weather patterns, and bygone landscapes…the opportunities are truly endless. You could offer AR experiences for free as part of your attraction or charge an additional fee to bring in extra revenue.
Top features:
AR app creator
Image-based AR
Ground-plane AR
WebAR scanner
Pricing:
The starter plan costs $89 per month, but if you want their fully white-labeled solution so none of their branding appears in your AR experience, you'll need the business plan, which costs $449 per month.
Which software is right for you?
It takes several tools to piece together the right experience for your customers and your team. If you're looking for revenue-driving software, you might try EZFacility, ArtCloud, GateMaster, ActiveCampaign, or Checkfront. If you're looking to improve the visitor experience, check out STQRY Apps, STQRY Kiosk, STQRY Collect, UniteAR, and Dexibit. To take your internal operations to the next level, look into Workvivo or Bynder.
STQRY helps museums, galleries, and cultural heritage sites tell their stories and optimize staff productivity. Learn more.