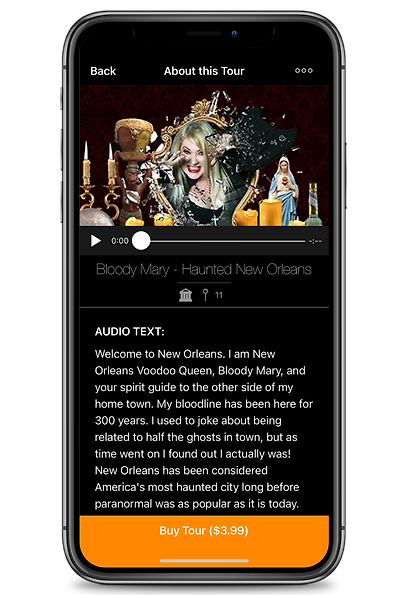 Located in America's most haunted city, New Orleans, the Bloody Mary Haunted Museum is the best place to satisfy your craving for the unexplainable this Halloween. The Bloody Mary Tour App enables both virtual touring and on-site visits. Following New Orleans' celebrity Voodoo Queen and the curator, you can explore the museum with Bloody Mary's enchanting monologue, music, paranormal evidence, and otherworldly visuals.
In this blog post, we show you how the Bloody Mary Tour App creates a fully immersive experience for your Halloween adventure.
The Bloody Mary Haunted Museum
Founded by Bloody Mary, a celebrity ghost hunter and occult historian, the Bloody Mary Haunted Museum is a pioneer in the paranormal field. As a part of the fantastic Bloody Mary experience, the museum is located in a 200-year-old haunted house in the french quarter of New Orleans. It contains an occult collection, haunted possessions, a ghost photo library, a haunted doll nursery, and other paranormal displays, which allow you to connect with the spirits while learning the history of Crescent City. The curator, Bloody Mary, has been featured on hundreds of international documentaries and reality shows. Her psychic knowledge works in tandem with extensive research, creating a unique and holistic approach for visitors to learn about the underworld.
An App That Creates A Personalized Touring Experience
"I really want to provide an in-depth look at the story behind the displays at the museum, and let people devour as much or as little of the information at their own place," said Bloody Mary. The idea of creating an app began with Bloody Mary's goal of delivering a flexible touring experience that suits different guests' needs, no matter if it is visiting on-site or virtually in the comfort of their own home.
Powered by STQRY's multi-media functionality, the Bloody Mary Tour App combines text, imagery, audio, and video content to immerse all your senses into a mysterious dimension. The tour includes eleven stops, each with historic and paranormal evidence as well as links to additional information. "You can search it for hours and still find new pieces." Through the manual on the app's left top corner, you can easily choose to continue or skip any stops based on your personal preference, without the hurry of following a large group or a rigid schedule. Additionally, STQRY's powerful mapping shows the GPS location and nearby points of interest, guiding you through a route of your choice during an on-site visit. It saves the hassle of jumping between google map and multiple websites. It is just like Bloody Mary describes, "smaller groups and more personal needs served in one shot."
The digital transformation has also become a great safety measure for COVID-19, with the app delivering social-distancing travel options to visitors, including a special Halloween visit this fall. "Once group tours were forced to pause due to the pandemic, the Bloody Mary Tour App became necessary and a God-sent gift that pushed my clients into the modern age of apps at the right time! It helps guests get more out of the museum in the new virtual world we find ourselves in."
Shifting Towards A More Efficient Business Model
For Bloody Mary, there has always been an inconvenience with scheduling live tours inside the museum. "Everyone wanted me to do live tours personally. However, with lots of time spent on the road and shoots, I cannot always be in the museum and the shop. My guests really appreciate that they get to hear me through the app, even if they do not meet me in person," said Bloody Mary.
There is a brief overview of each area in the virtual tour guide, followed by a fully written script and a fully engineered presentation that works as a talking book. The tour app is a more engaging alternative to zoom presentations; all the while curating a customer-friendly and efficient business model in today's new normal.
Reaching a Wider Audience Through Virtual Tours
Supported by STQRY, the app's multi-media content turns a traditional tour into a podcast, a vlog, and a virtual paranormal adventure for audiences across the globe. "Technology has enabled us to reach people far away and deliver my virtual tours to them," said Bloody Mary. Virtual tours eliminate most barriers to global travel during the pandemic, such as border restrictions and the high cost of long-haul travel. With the Bloody Mary Tour App, you can experience the haunted New Orleans coming alive anywhere in the world. Without a doubt, virtual tours have a special place in contributing to the Bloody Mary Haunted Musume's current and future success.
People love it once they try it! On the app, they can hear my stories, take a trip, or go on a ghost hunt without leaving their home.

— Bloody Mary, Founder at Bloody Mary Tours
An Easily Updatable Plug-and-Play Platform
"I just like the simplicity of dropping photos and video evidence on the app builder," stated Bloody Mary. STQRY's plug-and-play platform allows Mary to easily customize her mobile virtual tour without any previous app-building experience. "I am a whiz at building my own website. However, I have never built an app. I am an average user of technology." The support team at STQRY also helped eliminate barriers to building the Bloody Mary Tour App. "Luckily, STQRY has a great support team who helps on the rough parts! They check in regularly - even during hurricanes and power outages! "
With new displays coming in regularly, the museum needs an easily updatable digital solution. STQRY's real-time content updates feature gives Bloody Mary the confidence to add more tours and update information anytime. "I will add new things again after Halloween. The app builder makes it easy to update and add it all."
The Bloody Mary Tour App is a must-have for your Halloween celebration. Download the app from Apple and GooglePlay.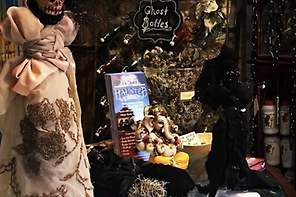 To build your own mobile app and create a personalized touring experience, check out the STQRY Builder.