With museum displays, you can share just about any type of content or information with your visitors. But with all of that potential, there are plenty of pitfalls to avoid.
If you create physical displays, they'll be difficult to update and maintain. Plus, they'll need to be pretty large to cover a topic comprehensively—and in multiple languages.
To help you navigate the right formats and decisions along the way, we've curated a list of the best practices to follow when developing your own museum displays.
1. Go digital
Opt for digital displays over physical ones whenever possible.
Digital museum displays offer several advantages compared to plastic or acrylic signs and displays.
Here are the big advantages of going digital:
More interactive - A digital display can hold more content in a smaller space. This makes it easier for museum managers to offer different types and formats of content. Visitors can then swipe, slide, zoom in, zoom out, and select what they want to engage with.
Easy to update - Digital displays can be instantly updated from a central content management system. New content should be able to fit easily within response designs. But physical displays will need to be redesigned, reformatted, and then rebuilt.
Improved accessibility - Digital museum displays can include multimedia content such as text, video, image, and audio files so that hearing-impaired and vision-impaired visitors can still engage with it.
Allows for multilanguage content - You can also use digital displays to offer content in the languages most important to your location. This saves a lot of space compared to physical museum displays.
2. Use a kiosk software designed for museums
When you opt for digital museum displays, you need the right software to help you craft, design, and deploy your content.
There are a lot of types of platforms that can be used for different industries. For example, kiosks are popular in fast-food chains for viewing menus and placing orders.
Make sure to use a digital display software that is designed for museums. This way, the features will be more specific to your needs and it'll be easier to adapt the system to fit your content.
STQRY Kiosk is built for museums, galleries, and parks. Learn more about our web-based kiosk builder.
3. Create interactive content for your visitor segments
When crafting content, you need to make sure you're covering these key elements:
Achieves organization goals - Every piece of content should have a reason for existing. That might be to educate visitors about an important fact or piece of history or to spread awareness. For example, the National Gallery in London used audio content from people struggling with mental health issues in order to measurably impact visitors' stigmas.
Satisfies different visitor segments - Your content should cover the needs of different categories of visitors, whether those are demographic segments or motivation segments (Researcher John Falk offers 5 types of museum visitors based on their motivation for the visit: Explorer, Facilitator, Experience Seeker, Professional, and Recharger).
Interactive - And lastly, every piece of content that you create should be interactive in some way. That might be as simple as swiping and scrolling, or it could look like a more complex content journey, such as expandable elements on a timeline or map. Interactivity is essential because it not only makes content more engaging, but it also allows for more attractive formatting as well.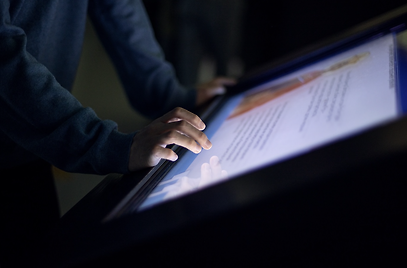 4. Brand your museum displays
A museum display should match your museum's branding perfectly. This way, the display feels more like a natural extension of your museum experience, rather than an unrelated add-on.
Consider these elements when working on your display design:
Add your logo
Update the font types, colors, and sizes
Produce on-brand media
Create on-brand layouts (such as large headings, lots of whitespace, etc.)
5. Make wayfinding easy
Museum displays that are multipurpose will be of the most use to visitors. One of the best things you can add to your displays is wayfinding functionality.
You might add a little map icon in the top right corner of your displays, so visitors can easily click on it to find out what they want to explore next.
And in high-traffic areas, you can have museum displays that are dedicated to wayfinding, with all of the details on show schedules, facility features, and more.
6. Promote your events, memberships, etc.
Museum displays can not only help you achieve your qualitative goals for education and community impact but they can help you reach your quantitative goals as well.
You can use your displays to promote upcoming events, membership program details, donation and sponsorship requests, kids' summer camps, and other programming.
You can layout your museum displays to feature a promotional widget, and have a slideshow with the various promotions or match the right promotion to the right display location (such as advertising summer camps in the children's area of the museum).
7. Experiment with QR codes
With a QR code generator, you can easily add QR codes to your displays. You might use QR codes for membership sign-ups, event registrations, or gift shop coupons.
Your QR code software should provide analytics so you can see which codes are the most popular and use that information to optimize the offers themselves.
8. Analyze and improve content regularly
When you use STQRY Kiosk to create your museum displays, you get access to Google Analytics. You can look at clicks, page views, and dwell time to gauge which content is the most and least popular.
You can also utilize Google Analytics' Goal feature. For example, you might create a goal for the completion of an interactive timeline of an artist's life. Google Analytics will show you how many people who started the content flow actually completed it so you have an accurate goal completion rate. You can also see where people dropped off to know what elements of the content flow could be improved.
Make sure to review all of your content on a monthly or quarterly basis and make improvements accordingly.
Great museum displays should be full of impactful content, easily updated, and accessible for as many visitors as possible.
Looking to easily create informative museum kiosks?