Museum software can be used to email members, sell merchandise, promote special events, engage in-person visitors, and so much more. But there are a lot of platforms on the market, and it can be hard to know which ones you really need. We've defined several essential museum software categories and handpicked the best tools for each one.
Our list also includes tips on how to get the most out of each software you pay for, so you can lower your organizations' expenses.
Visitor mobile app builders
A mobile tour guide app can be used to replace guided group tours or offered as an additional option for visitors who'd rather experience the museum solo and at their own pace. Fortunately, museum managers and creative directors don't have to pay app development agencies to build these sorts of apps from scratch. Instead, they can use software to create a mobile app faster and more affordably.
Here are the top app builders:
1. STQRY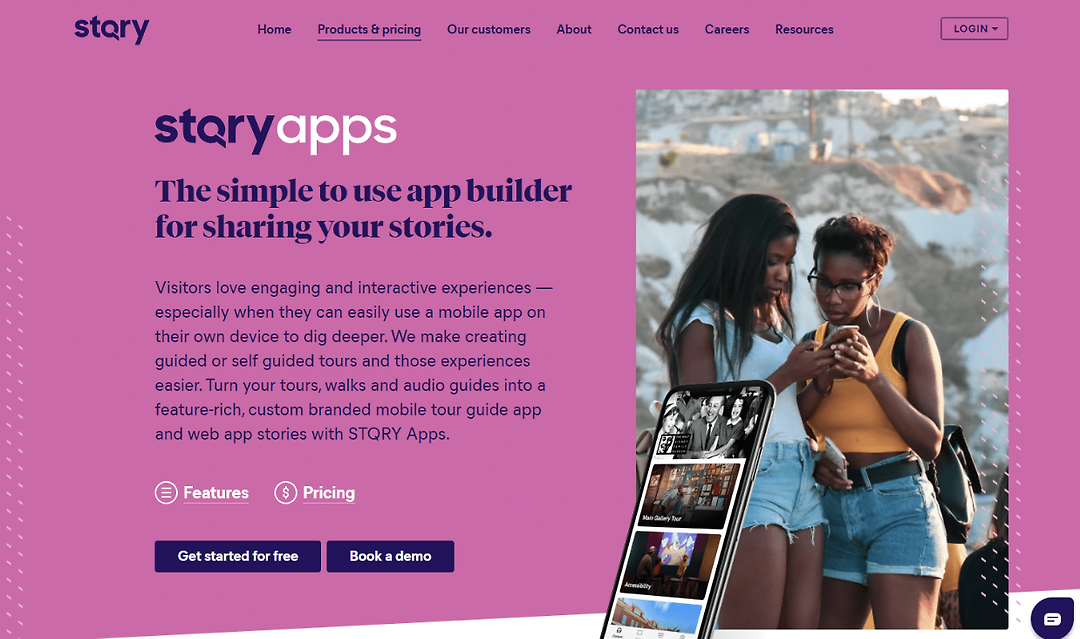 STQRY is a tour guide builder designed for museums, agencies, universities, and parks. You can create location-based tours, meaning that the app will notify users of content or autoplay audio tracks based on their physical location within the museum. Or, you can allow visitors to simply hit the next button to see the multimedia content for each asset. To increase membership sales, embed check-outs directly into the app.
Learn more at STQRY.com
2. Buildfire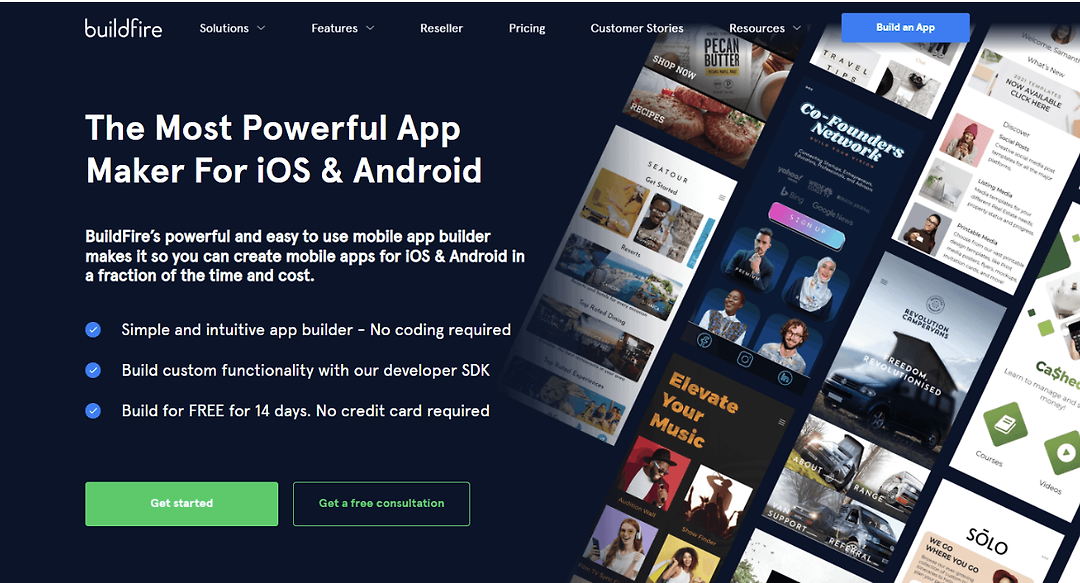 Buildfire is another no-code app builder, but it isn't exclusive to museums and cultural sites. The platform can be used to create any type of app. While this does create flexibility, it also makes the platform more complicated to use. You should only Buildfire if you're looking to create a different type of app for your visitors other than a tour guide. For example, if you want your visitors to be able to engage with or network with one another.
Learn more at Buildfire.com
Museum CRMs
Every museum needs a CRM in order to keep track of all of their members and contacts. There are many CRMs designed for museums.
Here are our top picks:
3. Veevart
Veevart offers membership management, fundraising campaigns, grant tracking, and membership analytics. These features are built on top of the Salesforce.org Nonprofit Cloud. With Salesforce being the top CRM in the world, this makes the platform quite robust. You can integrate their CRM with your website and POS for accurate contact data collection.
Learn more at Veevart.com.
4. Blackbaud Altru
Blackbaud Altru is a CRM and ticketing solution that offers a 360-degree view of your supporters. You can track attendance history, membership activity, donations, and of course contact information. You can also manage your onsite merchandise for member benefits and merchandise discounts. There are built-in email tools, making it easy to contact the right member with the right messaging.
Learn more at Blackbaud.com.
5. Tessitura Network
With Tessitura Network, you get tons of museum management features in one place. Top features include the CRM, ticketing and admissions, fundraising campaigns, memberships management, business analytics, email marketing, and marketing automation.
Learn more at TessituraNetwork.com.
Ticketing software
Ticketing software can be used to create, track, and accept unique tickets for regular museum visits or special events. Most museum-specific CRMs include ticketing functionality as well, so check to see if your CRM system offers this before purchasing something else.
If your CRM doesn't include ticketing, check out these options:
6. Tix
With Tix, you have a reliable cloud-based ticketing system for ticket issuance and barcode or QR code scanning. Their museum-relevant features include timed admissions, member discounts, and special event access.
Learn more at Tix.com.
7. Oxynade
Oxynade is a ticketing solution that lets you create and manage multiple types of tickets, including for regular visits, group tours, special activities, and private events. Oxynade also offers timed admissions, multichannel ticket sales and distribution, and audience segmentation for follow-up communications and marketing.
Learn more at Oxynade.com.
8. AudienceView
AudienceView is a ticketing and event marketing system that offers not only ticketing creation and scanning, but also promotion and distribution features. Your events can be featured on their partner sites TheaterMania.com and WhatsOnStage.com and sent to their email list of 1.8 million theatergoers. Of course, the theater specialization makes this platform a better fit for museums related to entertainment and performing arts.
Learn more at AudienceView.com.
Museum POS software
A point-of-sale system allows you to take payments for merchandise and memberships while collecting and storing the patron's contact information.
Some CRMs designed for museums will include a POS, so check to see if yours offers this functionality.
If you don't have a POS yet, check out these popular platforms:
9. Korona POS
Korona POS offers fast checkout speed to help shorten lines and increase sales. You can use it for memberships, merchandise, and ticket purchases. The system also includes an inventory management system so you can track your in-store and online inventory and get notified when it's time to reorder merchandise. Advanced features include cashier reporting and time tracking, a QuickBooks integration, automated time-based price changes, and backstock reports.
Learn more at KoronaPOS.com.
10. Gatemaster
Gatemaster can be used for both POS and ticketing. You can integrate your ecommerce site with your onsite merchandise for accurate inventory tracking and accounting. Some of their top features include class and workshop scheduling and ticket sales, individual and family memberships with photo uploads, automated membership renewals, donation acceptance, group and special event booking, and Groupon management. The system also offers advanced reporting and analytics so you can track your top-selling events, merchandise, and visitor time slots.
Learn more at Gatemaster.com.
11. Clover
Clover is a POS that can be used by any type of business or organization. You can sell memberships and merchandise and collect donations. Credit and debit cards can be read in-person with a swipe or chip and the reader only costs $49. You can also create a loyalty program featuring discounts and other perks. You'll be able to capture email addresses and phone numbers for further promotions.
Learn more at Clover.com.
12. Square
Square's POS can be used to securely accept payments both online and in-person. You can manage memberships on autopay and sell merchandise. Square also offers advanced features such as loyalty program management, email marketing, SMS marketing, and a customer message hub for resolving customer support issues. If you need software for managing your staff, there are also payroll and time tracking features.
Learn more at Squareup.com.
Digital collections software
A collections website is essential for sharing your curated collections with the world. In-person visitors can check out your collections website on digital displays in your museum to get deeper insights into what they're seeing. And you can SEO optimize your digital collections so that people searching for relevant information can find your collections online—and potentially support your work via a donation.
Here are the top platforms for managing your collections website:
13. STQRY
STQRY Collect is a dedicated software for museums and galleries wanting to publish a beautiful collections website. You can add multimedia content, organize it easily, and optimize it for search engines. The collections can then be reused across multiple platforms, including mobile apps, kiosks, various websites, content aggregators, smart TVs and more. STQRY Collect also includes community features. If you'd like, you can allow users to comment on collections and even upload their own files and write articles. STQRY Collect can be maintained by anyone, no previous web design or development experience required.
Learn more at STQRY.com.
14. Webflow
Webflow is technically a content management system (CMS), but it could be used to create a digital collections website. Unlike STQRY, it's not specifically designed for this purpose, but can be used to make any type of website. To utilize it to its fullest, you'll need to hire an expert Webflow designer.
Learn more at Webflow.com.
Visitor analytics platforms
A visitor analytics tool can tell you what your visitors are engaging with the most. These insights can then be used to plan out new exhibits or get organizational buy-in for expanding upon a popular collection.
These are top two picks (one for measuring foot traffic and the other for tracking mobile tour guide app engagement):
15. Dexibit
Dexibit is a dedicated data analytics platform that's designed for visitor attractions. Dexibit offers personalized dashboards, automated report generation, and revenue forecasting powered by machine learning. You can use it to track both onsite and online interactions in order to optimize ticket prices, scheduling strategies, promotion strategies, event programming, and so much more.
Learn more at Dexibit.com.
16. Google Analytics (connected to your STQRY tour guide app)
You've likely heard of Google Analytics. It's the free website and mobile app analytics platform that Google provides. Digital marketers and app developers use it to track engagement, dwell time, conversions, and more. You can integrate your STQRY mobile tour guide app with Google Analytics in order to successfully plan and improve the visitor experience. For example, let's say that you have three different tours within your museum. With Google Analytics, you can discover which tours have the highest start rate and completion rate. You can then prioritize these tours for audio content creation, if you only have text and photos. Or, you might use the theme and content of a popular tour in your marketing materials, since you know it's a fan favorite.
Learn more about measuring the success of your tour guide app and connecting STQRY with Google Analytics.
SMS marketing tools
Short messaging service (SMS) simply means text messaging, and it's an important means of communication for many museums. You can use SMS messages to send ticket confirmations and reminders, to market special events, and to notify members when they're up for certain benefits and perks.
Here are two popular SMS platforms:
17. Twilio
Twilio is one of the top SMS platforms in the world. It connects with over 4000 other systems via a Zapier integration, making it highly likely that it will connect with your CRM for accurate segmentation. While Twilio is known for its SMS functionality, you can also use it for email marketing campaigns.
Learn more at Twilio.com.
18. Textedly
Textedly is another popular platform for sending text messages to customers and contacts. It also integrates with Zapier, and has direct integrations with popular CRMs like Salesforce, HubSpot, and Pipedrive.
Learn more at Textedly.com.
Email marketing software
Email is an important marketing channel for museums. You can create unique email newsletters for your contacts, members, and premium sponsors. You might also want to send promotional emails for upcoming events and activities and limited time membership deals.
19. ActiveCampaign
While ActiveCampaign can be used to send any type of email, it's well known amongst email marketers and ecommerce store owners as being best in class when it comes to transactional emails. It integrates with many different POS systems so that you can capture purchaser information and can send confirmation emails that go above and beyond basic receipts. You might add details on upcoming events or suggest additional products to purchase next.
Learn more at ActiveCampaign.com.
20. Mailchimp
Over 20 years since its founding date, Mailchimp is still one of the top solutions for email marketing. You can send both segmented and automated emails as well as one-off broadcasts to your entire list. Mailchimp offers beautiful email templates and HTML design features so you can easily create an attractive email newsletter or promotional campaign.
Learn more at Mailchimp.com.
Ultimately, the best museum software can help you stay in contact with visitors, improve the visitor experience, and tell important stories.
To create a mobile tour guide app or digital collections, explore STQRY