How can you make your historical site more attractive to students and teachers?
How can you drive foot traffic without increasing the demand for docents?
In this case study, we show how Old Pine Conservancy tells the stories of notable Revolutionary War veterans, aligns their content with state curriculum, and scales knowledge through a simple mobile app.
The Old Pine Conservancy preserves the historic graveyard of Philadelphia's Old Pine Presbyterian Church, founded in 1768. Over 4,000 people are buried in the graveyard, and over 200 of them are veterans of the American Revolution. There are also the remains of other notable Americans, including a signer of the U.S. Constitution.
Through caretaking, preservation, research, and storytelling, The Old Pine Conservancy seeks to educate visitors about the patriots buried here and engage citizens in a deeper understanding of our shared history and its impact on us today.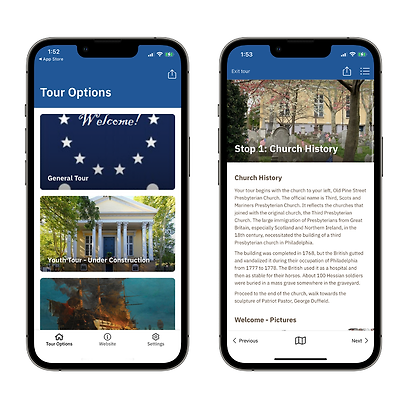 The need for a mobile tour guide app
Until the 1950s, the graveyard was overrun with plants and debris. When 27 Revolutionary War soldiers were discovered at the graveyard, the Old Pine Conservancy was formed to uncover and protect more of its history. Ron Shaffer, former president of the Conservancy, began working on the graveyard in the 1980s, researching over 4,000 gravesites and discovering many more veterans.
Ron delved into their history and provided tours of the gravesites, sharing information from memory. When he passed in 2020, there were some volunteers who had shadowed him and could pick up where he left off.
But there weren't enough docents to handle demand and be available on-site to provide tours at all hours of the day.
The Conservancy needed a way to scale the extensive knowledge that Ron had amassed.
Alice Reyes, current president, and other members of the board decided to partner with STQRY to create a mobile app with audio tour content to educate visitors at their convenience.
Pros of building an app with STQRY
Choosing STQRY as their app builder has paid off. Here are some of the key benefits the Conservancy has experienced.
Designed for tour guides
Unlike generic no-code app builders, STQRY was designed exclusively for creating mobile tour guides. This means maps, GPS triggers, audio functionality, and tour organization are all automatically included. With less tinkering required, apps can be launched in a fraction of the time.
Hands-on strategy and support
STQRY also provides help at every step of app creation. We can talk you through your strategy for organizing content and answer any questions you have about building and launching your app.
"I'm not technically savvy. "It was amazing to have the STQRY team available to help us set up the app and fill out the applications to be a part of the Google and Apple app stores." - Alice Reyes, President of Old Pine Conservancy
Accessibility
The Old Pine Conservancy was able to make its tour content more accessible. When downloading the app, users who are using the General Tour are prompted to select either English or Spanish. For this one tour, the user experience and all of the content is then presented in their chosen language.
Content flexibility
The possibilities for education are endless. Old Pine Conservancy has developed a General Tour with 22 stops featuring the most notable nation-forming figures and veterans. They also offer a Captain's tour with the sea captains and privateers of the graveyard.
They're currently developing an additional tour to explore the role of faith in the American Revolution. With STQRY, they can add new tours based on fresh ideas at any time.
To see it for yourself, explore the Old Pine Conservancy tours on any device.
Making the tour app free for students
The graveyard tour costs a one-time fee of $4.99 and then can be enjoyed again and again. But the Old Pine Conservancy made the app free for use by students and is reaching out to teachers to schedule group field trips so students can learn the stories of those buried here.
"We have a wonderful Youth Tour app for students grades 5 through 12 with high-quality curriculum. The audio tour is interactive and tells about each person and the event, then asks the students review questions. During field trips, we also provide teachers with a packet that offers instructional activities." - Alice Reyes, President of Old Pine Conservancy
The Conservancy had the app reviewed by the National Constitution Center and earned its approval. This means that the app fits state standards and benchmark for activities related to this content area of the Social Studies curriculum.
Schools nearby should get in touch to schedule a tour.
The path ahead
Old Pine Conservatory has been driving users to their app through QR code brochures linking to the app download, community outreach, partnership with the church pastor, and advertisements in local associations.
They will continue to prioritize getting students to the graveyard and making the site a key part of local education on the American Revolutionary War and the local citizens involved in it. This strategy will make the graveyard a vibrant source of local history and help bolster grant applications for continued preservation efforts for fencing, tombstones, and other features.
Key takeaways
Here are some smart highlights from Old Pine Conservatory:
Preserve local historian and docent knowledge
Scale and share knowledge through digital means
Provide free access to schools
Use a variety of boots-on-the-ground promotion methods
"I've recommended STQRY to other organizations. You get your money's worth." - Alice Reyes, President of Old Pine Conservancy
With STQRY, you can build mobile tour content with no coding experience required. Our platform is easy to learn, and we're here to provide hands-on support every step of the way.
Ready to create your own tour app? Check out STQRY.