Park management software is a must-have for tracking maintenance work, staff hours, and rentals. Different platforms can also be used to craft a stellar visitor experience and to attract more visitors to your park.
As the saying goes, there's an app for that.
But what type of software do you need the most right now?
65% of parks and recreation agencies in the US reported a fall in revenue during the pandemic, and only 15% reported an increase. If your visitor numbers are still low, you might want to focus on marketing initiatives, but if your facility usage and rentals are better than ever, then it might be time to improve your operations, increase visibility, and digitize as many processes as possible.
Check out our list of the types of parks and recreation management software to help you make your choice.
1. Park maintenance and operations software
The pandemic caused parks and recreation agencies to fall behind on their maintenance spending. When the world opened back up and construction projects kicked back off, managing them became a major operational headache.
Park maintenance and operations software can help you track maintenance projects, forecast necessary expenses, and gather the data you need to get stakeholder buy-in for asset maintenance.
This type of software will often include features to help you track and control energy and water usage as well. There might also be features for various forms of local compliance, such as project permitting, business or event licenses, and property zoning.
Example: Brightly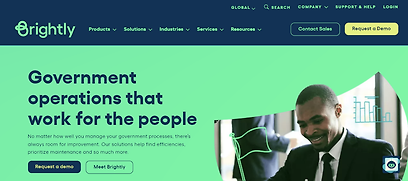 Brightly is designed for entire city governments as well as parks and rec agencies. Top features include city compliance management, asset maintenance tracking, expense predictions, event scheduling, and carbon usage tracking.
2. Park mobile tour guide app builder
26% of parks plan on adding fitness areas while 22% expect to add walking and hiking trails in the coming years. These sorts of features and trails need to be advertised to visitors so they know to make use of them. A mobile tour guide app is the perfect way to keep visitors abreast of park features both old and new.
You can create a location-based tour guide using GPS to keep visitors on the right trails and point out landmarks along the way. A tour guide app is also super useful for sharing up-to-date safety information, such as trail closures or how to prepare for a visit.
Example: STQRY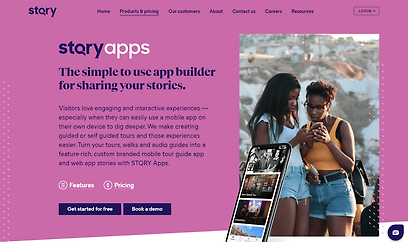 STQRY is the app builder of choice for both US Forest Service and Parks Canada. These organizations use STQRY to easily create a great mobile experience for their visitors, with no coding required by their internal team. Different departments work together to create content for tour guides, safety pages, basic information pages, and more.
3. Events, rentals, and facility management software
In today's digital world, park visitors can easily get frustrated when it's not possible to book reservations online. They might abandon the idea and choose another facility instead.
To make life easier for both visitors and your internal staff, you can use software designed for managing facility reservations, equipment rentals, and event tickets.
Some park maintenance and operations platforms will include features for managing reservations and taking payments. But if your operations platform isn't fully featured enough, then you may want to consider utilizing a separate system for scheduling resources with the public and accepting payments.
Example: EZFacility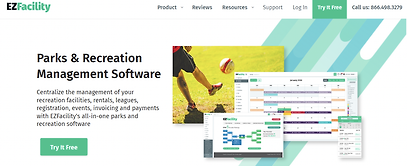 EZFacility is a dedicated platform for managing facilities, rentals, events, invoices, and payments. It's designed for parks and recreation, but can also be used by private clubs and gyms. Top features include facility scheduling, program and camp registrations, and rentals management. You can also use it as a point of sale system for both in-person and online purchases, whether for tickets, t-shirts, memberships, or anything else you might offer.
4. Marketing and brand asset software
Parks and recreation agencies manage a lot of different offers, from events to camps to season passes to paddleboard rentals and beyond. That's why it makes sense to use a fully featured marketing platform that can help streamline different types of marketing channels, assets such as flyers and social media posts, and different categories of customer contacts.
We recommend looking for a platform that offers email marketing, digital asset management, and CRM all in one place.
Example: Zoho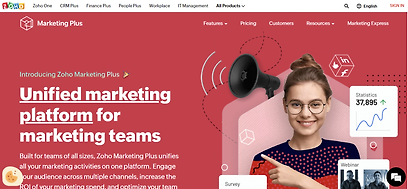 Zoho is a popular choice for organizations that want to simplify their tech stack. You can manage multichannel marketing campaigns, track customer contacts, and store and tag all digital assets in one place. Plus, if you don't yet have a customer service solution in place, you can also use Zoho for tracking customer support tickets on everything from reservation issues to refund requests.
5. Staff management software
Staff management software is another essential platform for parks and rec departments. Depending on the platform, you can typically use this type of software for staff scheduling, payroll, and spending management. Many platforms offer employee apps so that schedules are in the palm of everyone's hands.
Some platforms might also offer internal wiki management (the creation of internal training docs and resources) as well as employee communications (push notifications or SMS for important news).
Example: Workday
Workday is a human capital management system with tons of features in one place. You can use it for recruitment, workforce scheduling, payroll and hourly compensation, and staff expense forecasting. There's also a mobile app where staff can view their schedule, request time off, and see their upcoming payouts.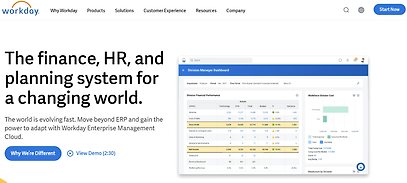 Many parks and recreation agencies will need to use all of these different types of software. They each cover a different category of business management.
Before you select a new tool, make sure that it's…
Future-proof: Will grow and innovate with you.
Easy to use: Offers no code functionality, simple UX, etc.
Integrated: Connects with your other mission-critical systems
To tell your stories and guide visitors through your site, check out STQRY.