A great mobile app allows you to communicate with visitors at scale. You can explain the historical significance of buildings, provide wayfinding to interesting sites, share your schedule, and promote museum programming.
In this case study, we show how High Point Museum achieves all of that with STQRY—an easy-to-use platform for building mobile tour apps with no coding required.
The High Point Museum is a trusted community center where people can learn more about the city, come together, and strengthen public life. The organization cares for the museum, the historical park with the Hoggatt House and blacksmith shop, and other historical structures in the city.
The Collections Unit cares for the over 37,000 objects, photographs, and archive material entrusted to the High Point Museum. This material helps the museum to interpret the history of the greater High Point region.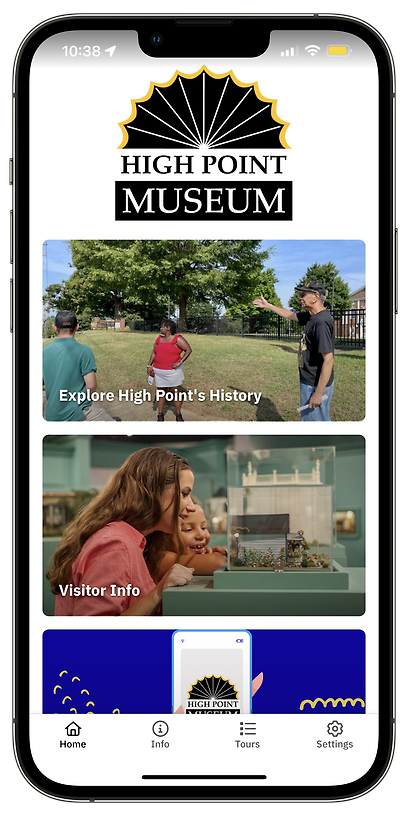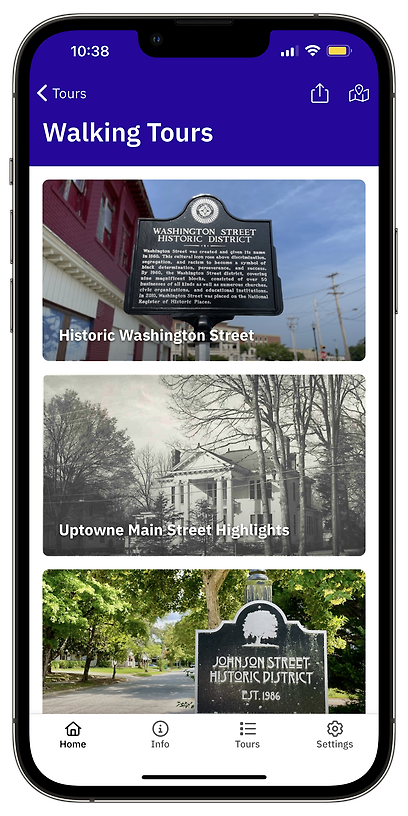 The Motivation for Creating a Mobile App
Tamara Vaughan, Communications Coordinator for High Point Museum, was looking for a way to teach visitors about the park's four historical structures. These buildings are only open on Saturdays, so most of the time there aren't docents on site to answer questions. She also wanted to provide wayfinding to help people discover historical sites around the city.
After doing some research, the team at High Point Museum decided to build a walking tour app that would provide maps, information of historical significance, and details on the museum's current programs and schedules.
STQRY was chosen for its museum audio guide because of its track record with the industry, no-code capabilities, and affordable pricing plans.
She set to work adding content from their extensive collections to stops along the mobile tours.
"I've done some basic website design in the past, but didn't have a background in coding or apps. I was able to pick up STQRY really easily and add our content." - Tamara Vaughan, Communications Coordinator for High Point Museum
The High Point team wasn't alone when it came to creating the app. Every STQRY customer has a dedicated customer success manager to enhance their app content strategy, walk them through the process, and troubleshoot any issues.
"Our customer success manager was always there to answer questions. She offered lots of ideas and guidance to make our app better." - Tamara Vaughan, Communications Coordinator for High Point Museum
Benefits and Results
The mobile app is both easy and affordable to maintain, allowing High Point Museum to reap a variety of benefits now and in the long term.
Always Available Guidance
High Point Museum achieved its goal of offering wayfinding and content around the clock. Now, visitors can guide themselves around the park when docents aren't available.
Helping families learn and explore
The mobile app brings awareness to special features outside of the park too. Visitors can drive or walk to historical sites around the city and engage with app content.
"I love how STQRY gets people learning about our city outside of our museum. The Jazz musician John Coltrane grew up here, and people get to go to his house, drive by, and see where he went to school. We can help people get out and experience all of these different historical points." - Tamara Vaughan, Communications Coordinator for High Point Museum
Content Insights
STQRY integrates with Google Analytics to track engagement inside your app. With this feature, Tamara can see that people gravitate most toward walking tours. This information helps High Point know what type of content to keep creating.
Accessibility and Certified Autism Center designation
The city of High Point recently became the first Certified Autism Destination on the East Coast. The museum is now a Certified Autism Center. There are calming, quiet spaces both inside and outside the museum.
Digital tours of the historical park have also helped the museum earn this designation because of the go-at-your-own-pace nature and multimedia content.
Easy updates for new exhibits and programs
Their app is a living thing. It can be updated at any time from STQRY's centralized content management system. And with no-code technology, these updates never require an expensive contract with a software development agency.
"We have a big exhibit opening in a few weeks. We can customize the app with new exhibit information, update our seasonal programming, and make sure our schedules are always correct." - Tamara Vaughan, Communications Coordinator for High Point Museum
Key takeaways
Here are some smart highlights from High Point Museum:
Use mobile technology to augment open hours or staff availability
Create off-site content that matches your mission
Choose DIY app-building software for longevity
Update your app regularly with details on new exhibits and programs

"I would recommend STQRY to museums that are connected to a city or specific place. It just makes so much sense because you can take your museum out of the building and provide information, buildings, historic figures, and guide people to those places."- Tamara Vaughan, Communications Coordinator for High Point Museum
Creating a mobile tour app for your museum or cultural site is simpler than you think. Our team at STQRY is here to help at every step.
Ready to create your own tour app? Check out STQRY.