It's easy to assume that building a mobile guide app would take 6 months. This is the minimum amount of time most custom applications take. But, when you use software that allows you to build your own app without coding, you can shift that timeline to a matter of weeks.
In today's blog post, we show you how World of Wine launched the perfect mobile guide app in just a few weeks.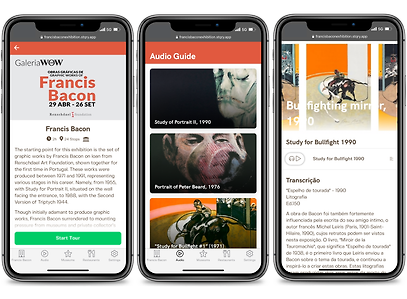 World of Wine's temporary exhibitions
World of Wine (WOW) is a must-see cultural district in Vila Nova de Gaia, a city on the south side of Porto, Portugal. Amidst centuries old Port wine cellars, the district features 7 museums and 13 bars and restaurants. Visitors can experience and taste Portuguese traditions in a myriad of ways.
There's also a temporary exhibition space that the WOW team curates every 2 to 6 months. Maria Delamain, digital marketing specialist at WOW, wanted to create a mobile app for the upcoming exhibition featuring Francis Bacon's graphic works.
Shifting towards guided content on visitors' own devices
"A lot of our exhibitions are very visual, and we don't want to clutter them with loads of multilingual content," said Delamain. For the past couple decades, museums and exhibitions have handled this by renting audio devices. This is now an outdated strategy because of smartphone prevalence and COVID concerns. "People are more comfortable using their own things, versus borrowing. We wanted to provide an elevated experience within their comfort zone."
Delamain was hoping to find software that would make it easy to build a mobile guide app without custom coding. It was essential that the app provide support for multilingual content, and that it encourage visitors to explore more sites and experiences within the district. After some Google searches, the WOW marketing team found STQRY and committed to building out the Francis Bacon exhibition content.
No app store downloads required
While STQRY does provide white label native apps, the team chose to opt for the web version only. Delamain appreciates that WOW visitors don't have to download the app in order for it to work. "Those who are traveling appreciate not having to download lots of different apps during their trip. The web-based version takes that barrier to entry away" said Delamain.
This decision also helped speed up the release time by a few weeks, as there was no need to launch a mobile app in multiple app stores.
Building an exhibition app in just 3 weeks
"STQRY has a really great customer success team," said Delamain. "After just one half-hour tutorial session with my main contact, I pretty much knew almost everything I needed to start adding our content. It took just 3 weeks to launch," said Delamain. WOW had both the talent and tools to produce high quality written and audio content to go alongside Francis Bacon's work. While the audio content was created specifically for the app, the written content was sourced from their existing materials produced as part of the exhibition. The team works hard to create these resources, so it was rewarding to have a more accessible way to share them with visitors. The app features an introduction to the exhibition, 22 painting descriptions, and a biography of the artist. To speed up the launch, only Bacon's most popular works contain audio descriptions, while the others include only written content.
Immediately upon opening the app, visitors are prompted to select either English or Portuguese, so the multilingual support is simple and instantly accessible. Visitors can begin their tour, and consume the content in the order the graphic works are displayed, or hop around by clicking on the painting's titles.
We've gotten so much great feedback from people about the app. They're happy they can experience the exhibition at their own pace...We've seen a good amount of museum ticket sales from the app too, so it's clear that visitors also enjoy getting to purchase tickets in one place.

— Maria Delamain, Digital Marketing Specialist, World of Wine
How WOW uses their app to sell tickets for other experiences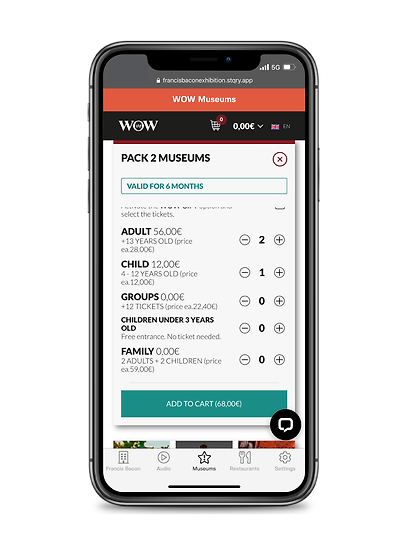 The app not only offers in-depth insights into the work of Francis Bacon, but it also informs visitors of what else there is to see in the district. "Visitors don't have to keep popping in and out of the app and our website to look for tickets or restaurant information. They can get all of this inside of one experience," said Delamain.
In the bottom menu navigation, visitors can click on the museums tab to learn about all about 7 museums and experiences, including The Chocolate Story, Porto Region Across the Ages, Porto Fashion & Fabric Museum, and The Wine Experience. They can also view the menus of the bars and restaurants that the district has to offer and even book seating reservations right inside of the app.
To create this functionality quickly, Delamain simply integrated the STQRY-built app with their other software for tickets and reservations.
"We've gotten so much great feedback from people about the app. They're happy they can experience the exhibition at their own pace," said Delamain. "We've seen a good amount of museum ticket sales from the app too, so it's clear that visitors also enjoy getting to purchase tickets in one place."
With the successful launch of their first exhibition app, Delamain plans to use STQRY for the next one. "The entire backend process was incredibly easy, everything from the integrations to adding the content," said Delamain. "We now have a solution in place to inform visitors about our current exhibition and the popular experiences they can enjoy throughout the year."
Key takeaways
Here's how the team at WOW built their mobile guide in just a few weeks:
Built code-free with STQRY
Chose to have a web-only app (opting out of submitting the app to app stores)
Repurposed existing written content
Prioritized certain graphic works for audio content
Integrated the app with their ticket sales system
To build your own mobile app quickly and affordably check out STQRY.