An excellent visitor experience paves the way for repeat customers, word-of-mouth traffic, positive press coverage, and 5-star online reviews. Museums, galleries, cultural sites, and parks all continuously work to improve the visitor experience.
But to do so, you need the right tech on your site.
In this guide, we've rounded up the most popular types of visitor experience software. We explain the key uses and benefits and provide an example platform for each category.
Large museums usually use all of these types of platforms, but smaller orgs might prioritize their budget only on the tech that will have the biggest impact on visitor enjoyment and staff productivity.
1. Mobile tour app builders
Mobile tour apps can work great in combination with human docents. They provide a digital option for visitors who'd rather avoid group experiences or when docents aren't available.
Research shows that visitors appreciate mobile tour experiences because they can go at their own pace, re-listen to information as desired, and save money compared to group tours.
A good mobile tour app will have general information about your site (such as hours and additional experiences available), as well as curated tours with multimedia content.
Example
With STQRY Apps, you can easily create your own mobile tour guide app with no coding required. You can make a map of your site or region, and allow visitors to engage with content as they go, or follow a designated path. Images, videos, audio file, and text can help your stories come to life.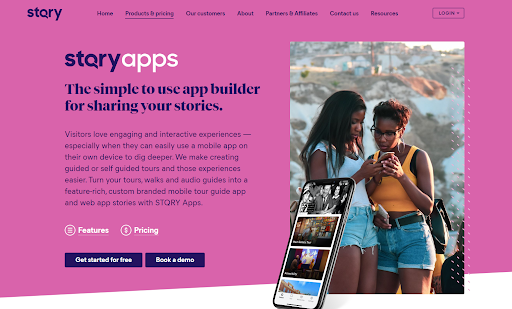 STQRY offers the technology and hands-on help you need to create your own app.
2. AR experience builders
AR experiences are getting more popular at museums and other cultural sites. They allow you to bring images and elements to life in a way that might not be possible otherwise. Kids are especially drawn to AR experiences, so if you have young visitors, this technology might represent a good opportunity to increase engagement and dwell time.
Example
UniteAR is an augmented reality platform designed for use by museums and art galleries. You can create AR experiences on a ground plane—meaning the object you create will appear as if it were really standing on the surface your visitors are pointing their phones at.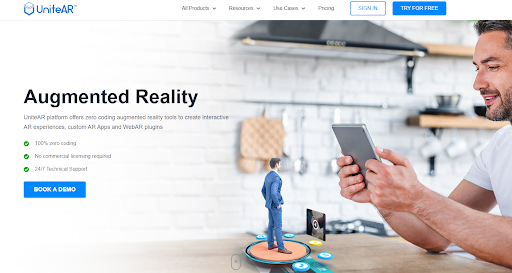 Get creative. Depending on your exhibit, you might create AR models of the human body, a ruin, an extinct animal, or 3D art.
3. Informational kiosks and digital labels
Digital museum displays offer a whole host of benefits. You can update content without reprinting anything. You can offer multimedia content and multilanguage content to improve accessibility. And you can make things more interactive, allowing visitors to choose their own adventure and engage with the content that most appeals to them.
Example
With STQRY Kiosk, you can launch your own digital labels and interactive experiences. With our content themes, it's easy to create beautiful, on-brand displays. You can keep things simple, with a digital label for each asset or room, or create more complex content journeys, such as timelines or interactive maps.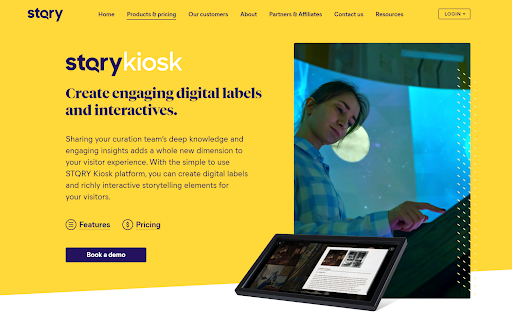 Whenever you want to make changes, you'll be able to instantly deploy them across all the right kiosks.
4. Cloud ticketing solutions
Cloud ticketing platforms improve the visitor experience as well as staff productivity. With all of the necessary data in the cloud, visitors can scan their QR code tickets at the door without having to print anything or pick up tickets from will-call. You can use these platforms to manage timed entry and to eliminate fraud.
Example
Blackbaud Altru is one of the most popular cloud ticketing providers for museums and cultural sites. It integrates with their CRM and fundraising solutions, making it easy for you to maintain one source of truth about your visitors and donors.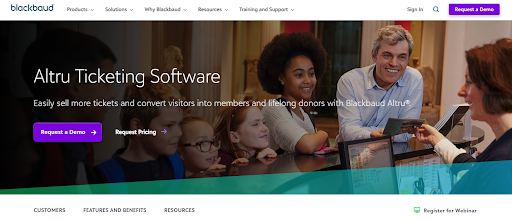 5. QR code providers
QR codes should be a part of any visitor experience strategy. Why? Nearly everyone has mobile phones, and QR codes serve as your bridge for taking offline experiences online.
QR codes play nicely with the other visitor experience software you might use. You can use QR codes within your museum or site to:
Encourage visitors to use your mobile tour guide app
Launch your AR experiences
Share your cafe menu and online ordering
Increase sign-ups for your email newsletter
Collect donations
Sell tickets for memberships or add-on experiences
Example
Beaconstac is a popular enterprise-grade platform for generating QR codes and tracking their usage.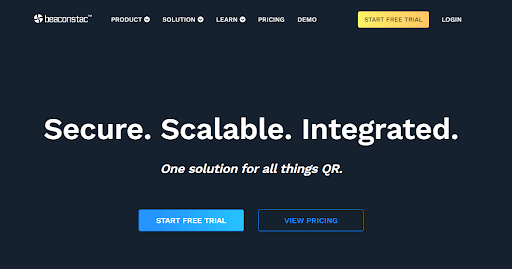 It's important to measure which QR codes are popular so can continuously improve your approach. For example, if you notice that signage prompting people to join your email newsletter list isn't getting many scans, you could change the messaging to offer a 10% gift shop coupon when they sign up for your list.
6. Foot traffic analytics
Large museums can use people-counting solutions to analyze peak times. These insights can help you ensure that you have adequate staff on site, which will drastically reduce frustration and improve the visitor experience.
You can also use foot traffic analysis to uncover insights into which exhibitions are the most popular. This can inform your future programming and how long you choose to feature a certain exhibition.
Example
SMS StoreTraffic is a people-counting solution that is used by retailers as well as museums.

The company offers a people-counting camera as well as a foot traffic sensor, so you can choose the right technology based on your needs. You'll be able to review insights from one central dashboard.
Ready to improve your visitor experience with the right technology? STQRY offers solutions for mobile tour guide apps, informational kiosks, and digital collections.