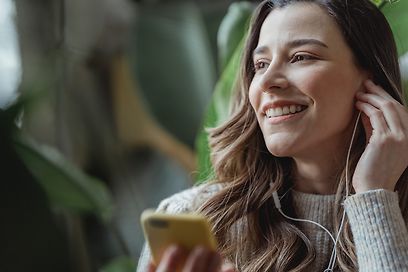 Audio guide apps help your visitors make the most of their experience by providing them with an audio tour of your museum, historic site, or landmark. With a guide app, you can provide your visitors with a self-guided tour that is packed with information and interesting facts about your destination.
You can include videos, images, and text in your app. However, audio content reigns supreme because visitors can listen to your content while walking or driving. Audio also offers the opportunity to create an immersive experience with voice actors, rich details, and audio effects.
From audio tours of world-famous museums to self-guided walking tours of historic landmarks, these audio guide app examples are sure to give you some great ideas for your next project.
Museums & Galleries
Audio guide apps are great for museums and art galleries, because they can provide multi-language context into the pieces on display.
If you're planning on building a museum app soon, make sure you check out these essential app features.
1. Walt Disney Family Museum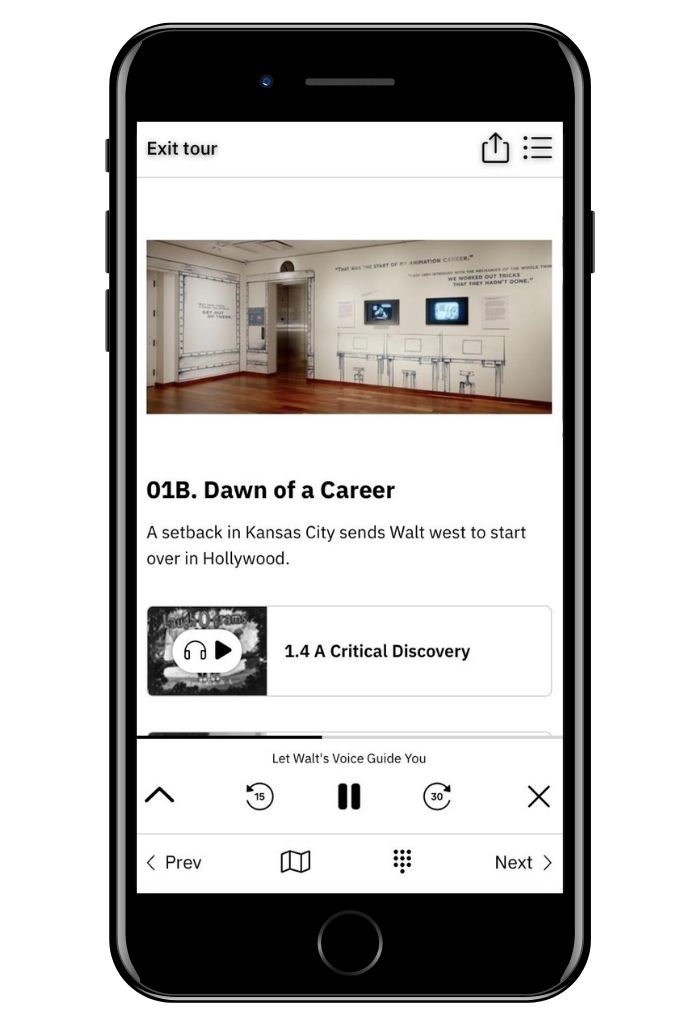 The Walt Disney Family Museum contains objects from Walt Disney's life. The audio guide walks visitors through the story of how he came up with the Mickey Mouse character and built one of the most recognizable brands in the world.
2. Tacoma Art Museum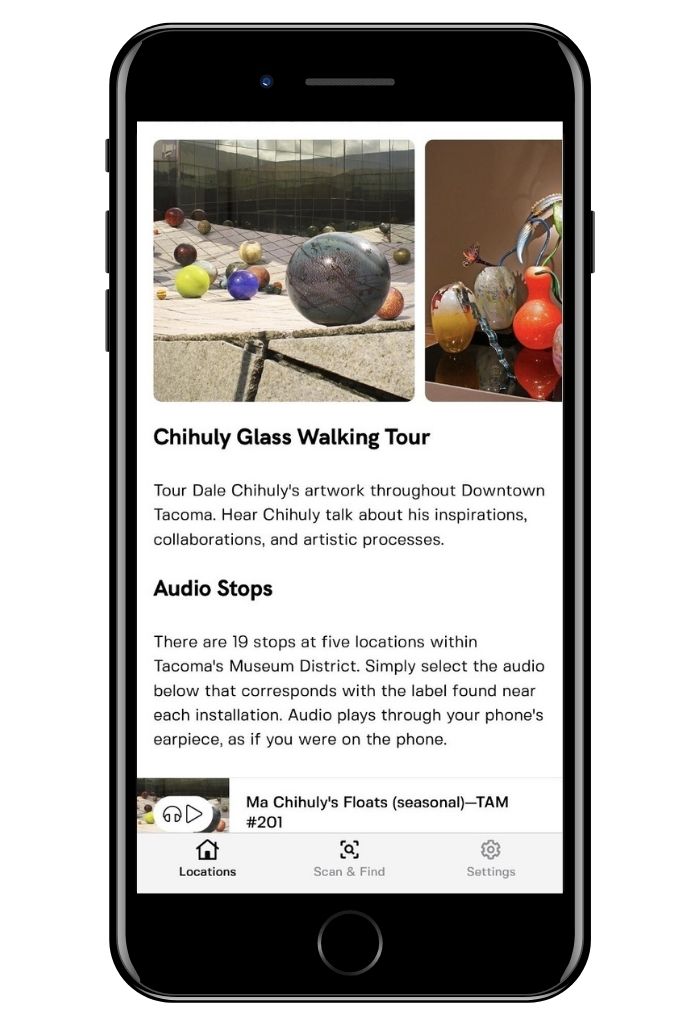 The Tacoma Art Museum offers multiple guided audio tours, including one on Dale Chihuly's blow glass artwork. The audio content focuses on what inspires him and his artistic process.
Tourism
Mobile tour guide apps can improve the customer experience for in-person tours or serve as stand-alone revenue streams for tourists who want a self-guided experience.
3. Ruka Africa's Mt. Kilimanjaro scenic flight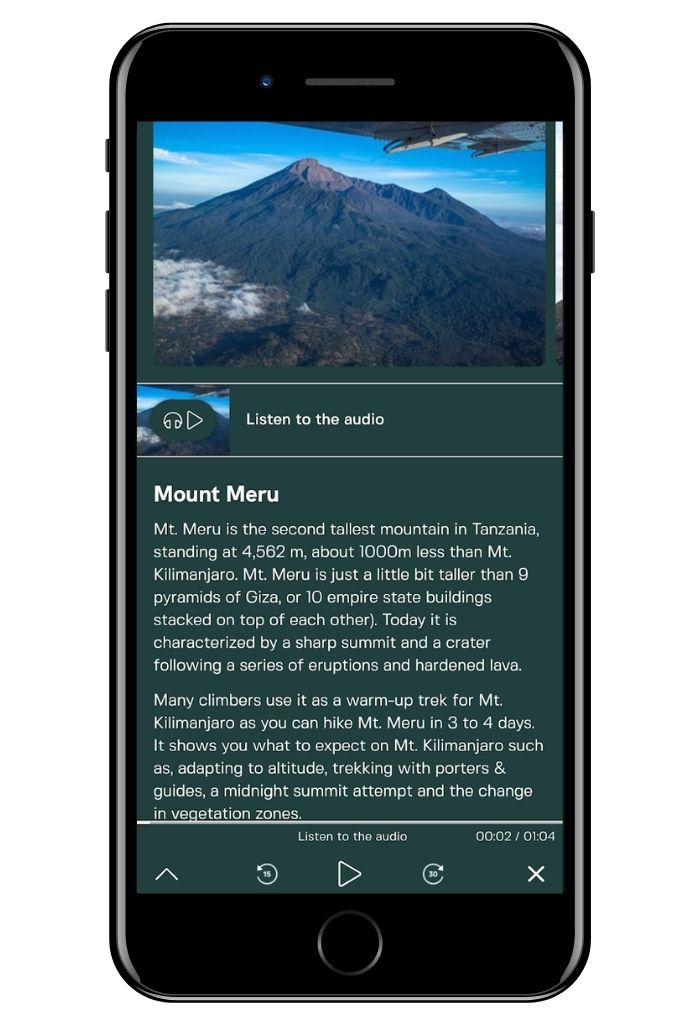 Ruka Africa offers a scenic flight around Mt. Kilimanjaro. Their mobile audio guide app is a free add-on and offers insights into how the volcanic peaks formed nearly 200,000 years ago. This allows the company to provide a multimedia experience to its customers.
4. Bloody Mary - Haunted New Orleans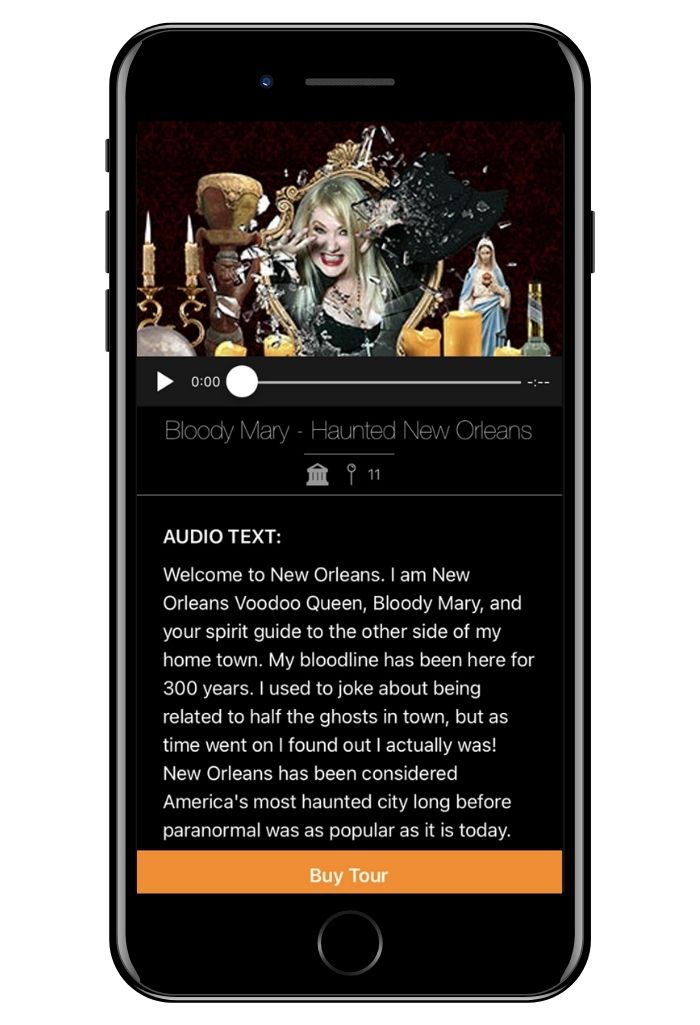 Audio guide apps don't have to be free. Tour guide companies can also charge for them. Depending on the length and location of the tour, companies typically charge between $5 and $15.
This Haunted New Orleans tour takes visitors through the Haunted Museum and nearby sites. The creator of the app is Bloody Mary, a professional psychic medium, ghost hunter, author, and occult historian. After offering in-person tours for 25 years, she decided to go digital and offer a self-guided tour app as well. Now, visitors can choose between the more affordable digital version and live, guided tours.
City Sites and Large Cultural Organizations
An audio guide app is an excellent tool for both city governments and non-profit cultural organizations. By providing visitors with a self-guided tour, they can explore the area at their own pace and learn more about the history and culture of the place they are visiting.
Particularly when covering large areas, you might want to include these in your app:
A map of the area
Points of interest marked on the map
Detailed descriptions of each point of interest
Audio recordings for each point of interest
By including these features in your audio guide app, you can ensure that visitors have a great experience and learn more about your city or organization.
5. St. Louis Public Library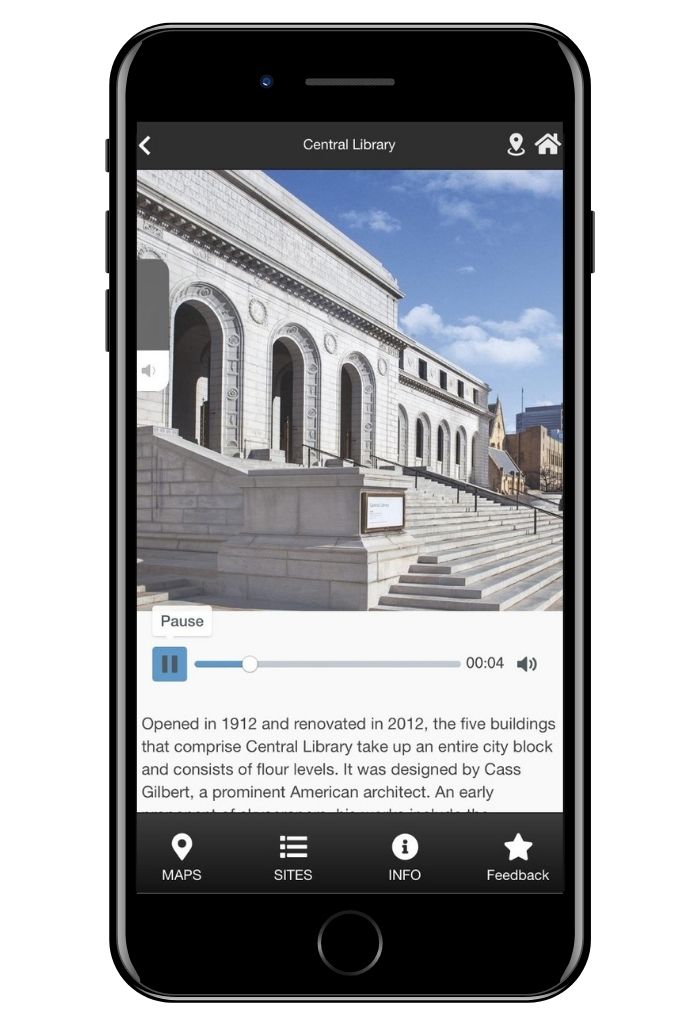 The St. Louis Public Library is a great example of an audio guide app. It offers a self-guided tour that covers the architectural history of the library. The app also allows users to explore the library at their own pace and learn more about its collections. With five buildings that comprise an entire city block, there's plenty to explore.
The app includes audio content for the exterior of the library, the atrium, the first floor, the second floor, the third floor, the fine arts room, the great hall, and the rooms for social sciences, entertainment, literature, and biography.
6. Cultural Tourism DC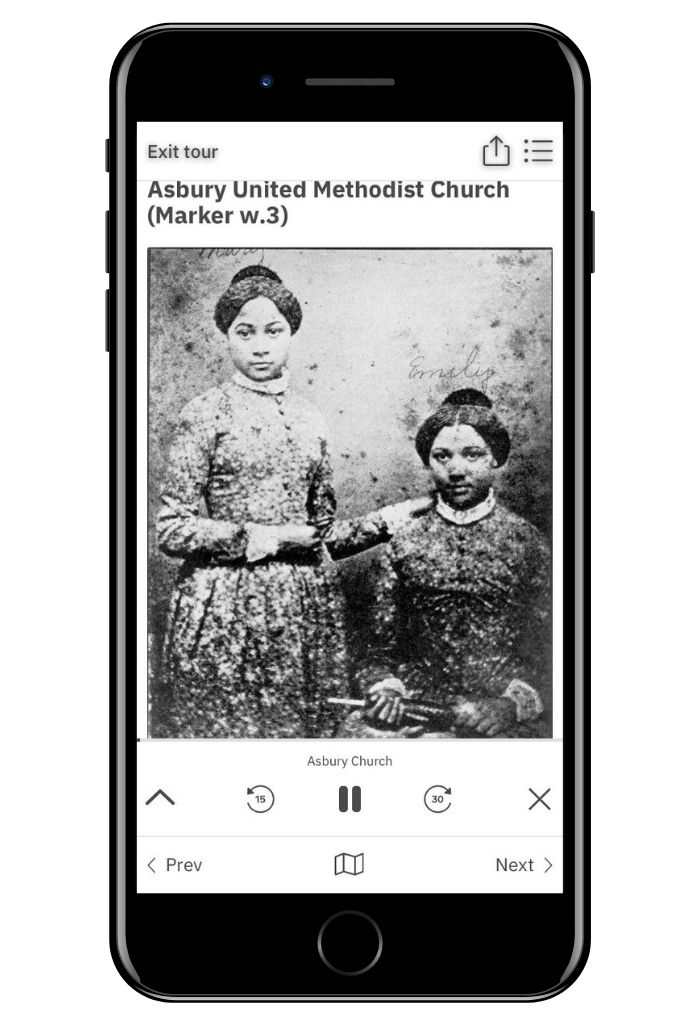 Cultural Tourism DC is a non-profit organization that promotes the culture and history of Washington, DC. They offer a variety of programs and events that are designed to educate and entertain visitors. One of their most popular offers is their audio guide app. The app offers a self-guided tour of some of the most interesting sites in Downtown DC.
They've separated the app into distinct tours: Downtown West, Downtown Center, Downtown East, U Street East Loop, and U Street West Loop.
If you're creating a tour app for a city or an organization that spans a geographical area, this is a great app example to check out.
Trails
If your organization maintains hiking and walking trails, then you should definitely consider making audio guide apps. Audio guide apps can be a great way to learn about the history of a particular hiking or walking trail. You can add geo-location triggers so that audio content will auto-play as visitors walk along the trail.
7. Brattleboro Words Trail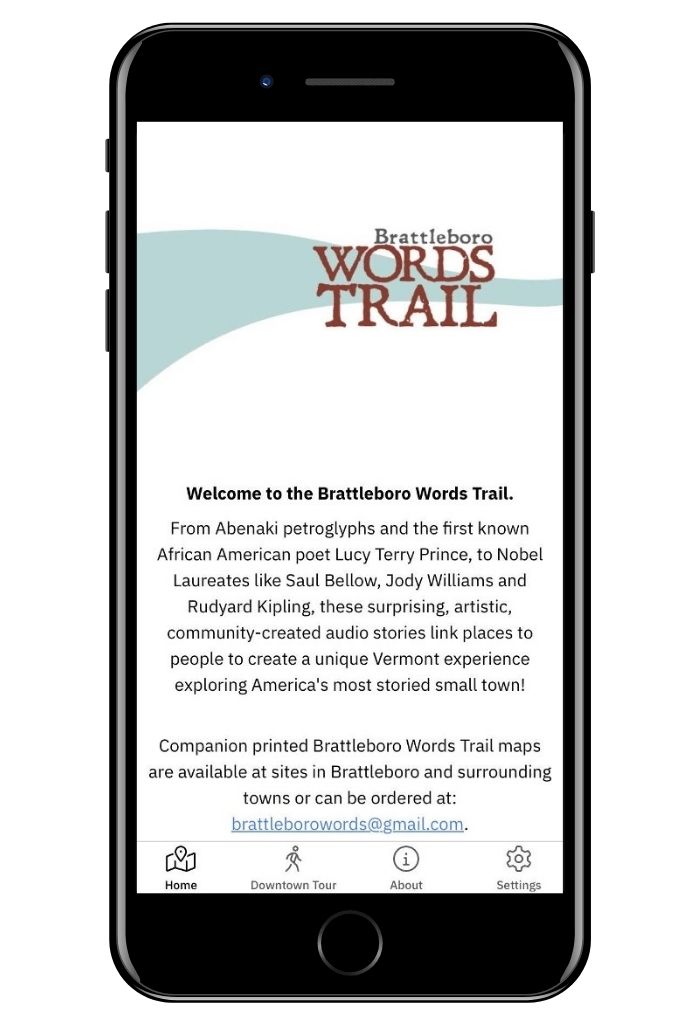 The Brattleboro Words Trail is a hiking and walking trail located in Vermont. The downtown trail map includes 47 sites spanning a 30-mile bike ride or drive. Or, visitors can choose to walk a shorter distance. Sites include the historic municipal center, fire department, post office, theater, and multiple printing presses. The audio content includes the history of the various buildings as well as the stories of popular current businesses and locales.
8. Snoopy's Walk of Fame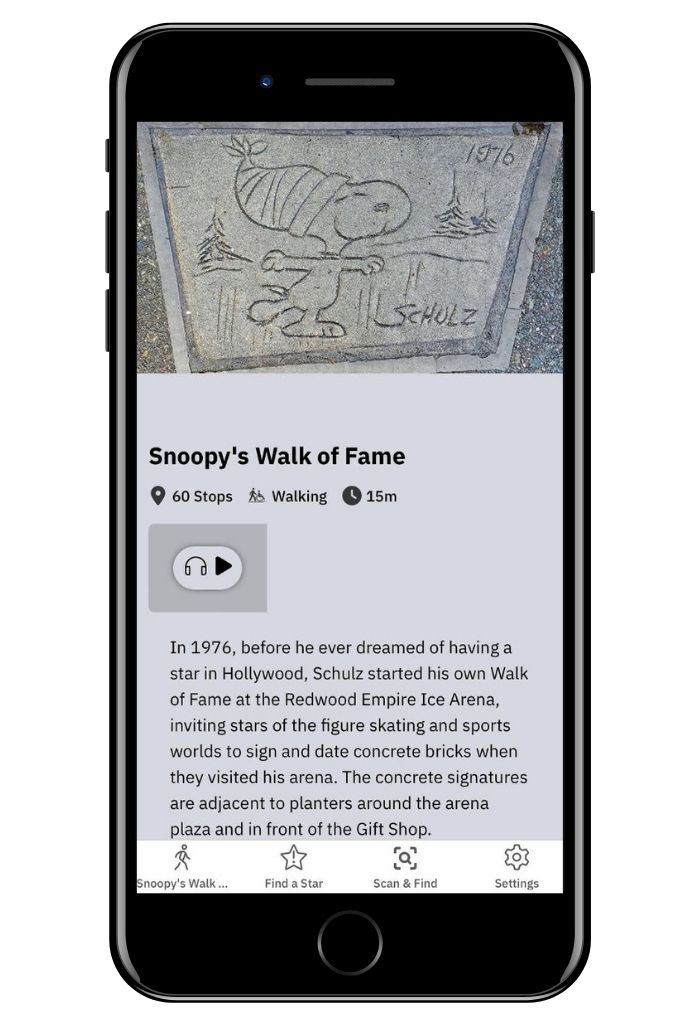 Snoopy's Walk of Fame is Charles Schulz's own walk of fame which he created before earning his own star in Hollywood. The Walk of Fame includes stops for celebrity signatures from Dorothy Hamill, Richard Dwyer, Tony Halk and more. The audio content tells the story of each celebrity behind the 59 signatures on the path.
Audio tour guide apps are great for a number of reasons. They offer a superior experience and can keep visitors coming back for more.
STQRY is an easy-to-use app builder for creating audio guide apps.